Sugam Conquering Chadar Trek With Thrillophilia!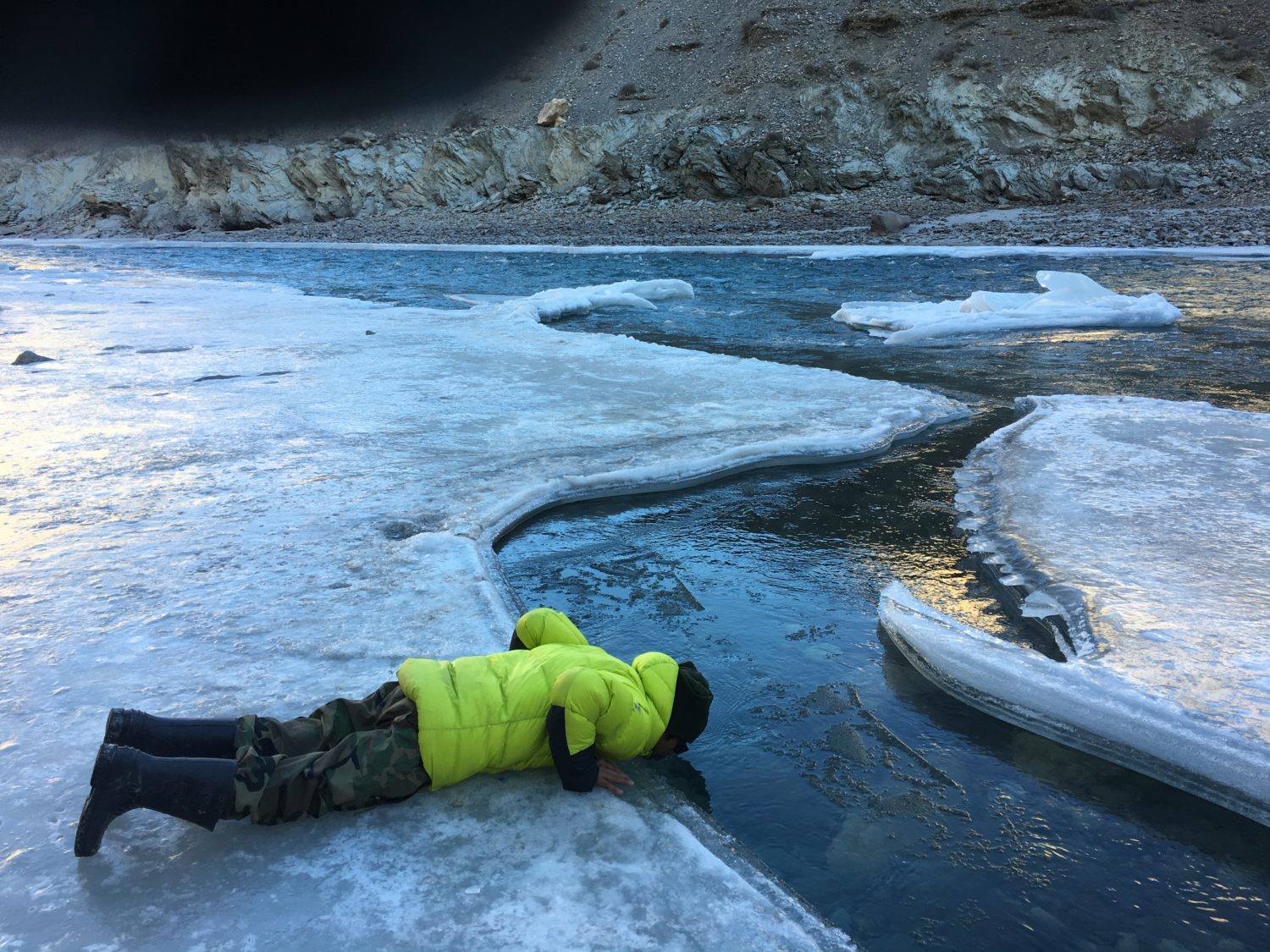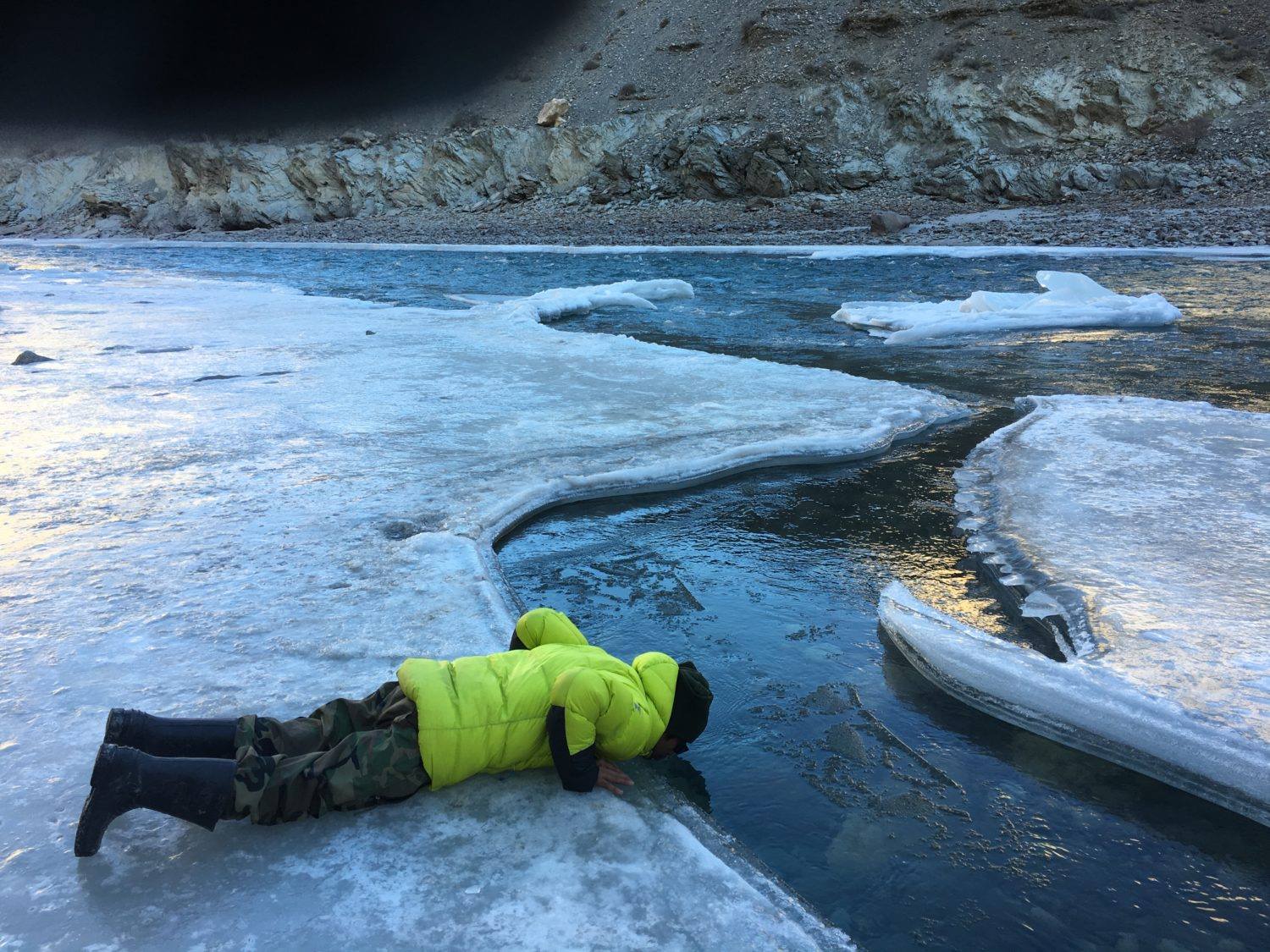 "My first steps on the ice were a little frightening but quite fun. Although our first slide on the ice wasn't the end of our journey, it didn't deter us. It was a challenging first night, but we survived."
"Walking on a Frosted River"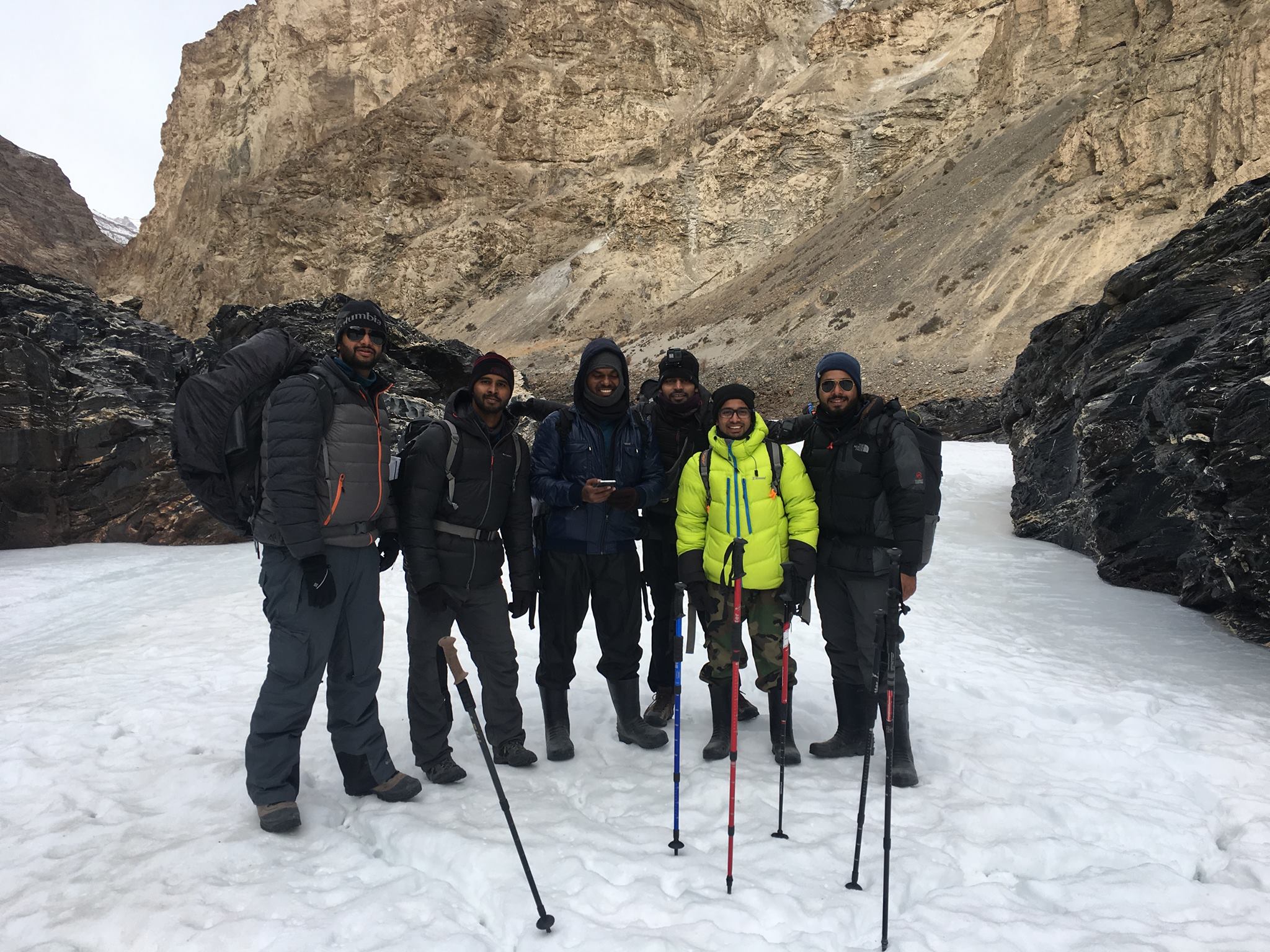 A set of black gumboots and a fun-loving fellow wearing them decide to explore nature's extremes, pushing their limits. Why and how? A thought crosses this guy's mind about the existence of Zanskar's infamous frozen river; the trek is popularly referred to as Chadar trek, and this could be the true set-off to be doing all of India's winter treks.
A final year Master of Design student at the Indian Institute of Technology, Kanpur, wants to climb all the peaks and glaciers in India besides pursuing a professional mountaineering course.
Sugam believes that "life is more about experiences, not things. It's not about stuff to show; it's about stories to share". It's his bucket list, a bucket list we'd all like - he wants to tick off the Annapurna Base Camp Trek, hike up to Everest Base Camp, and see Svalbard's Northern Lights.
Kudos, Sugam, Kudos!
Also Read: Chethan's Birthday Celebration In The Land Of High Passes With Thrillophilia!
Step One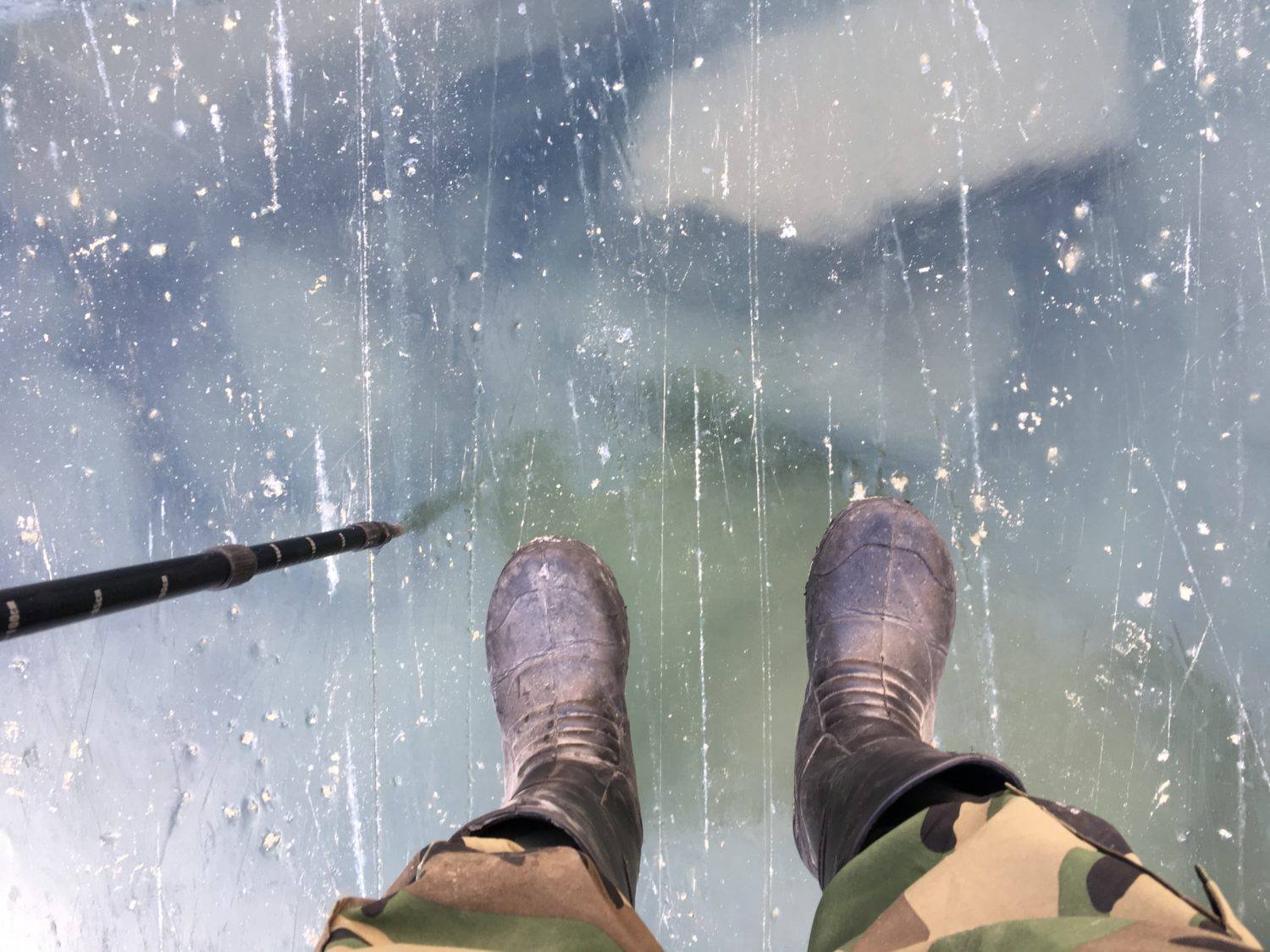 The idea of undertaking a problematic trek at Chadar came from Sudam simply to test his strength and potential, and so he lay about in nature's extreme and unfavourable conditions!
Many people take up the Chadar Trek after completing other relatively-easy winter treks and having gathered a decent set of experiences and skills. As for Sugam, he simply decided to do the opposite. Thrillophilia interviewee Sugam emphasized that this was the best trip he had ever taken.
The manner in which Sugam planned the trip has left many of us wondering. In the same manner, as any curious traveler would, he began researching the Chadar Trek on the internet. Travel journals, articles, blogs and anything else that would pop up reading "Chadar" caught his attention. On the 15th of January, 2018; not such a blue Monday, but after thorough planning and convincing himself, he was heading to Ladakh.
Suggested Read: Explore the Beauty of Andaman & Nicobar Islands with Rashmi!
Trekking Relations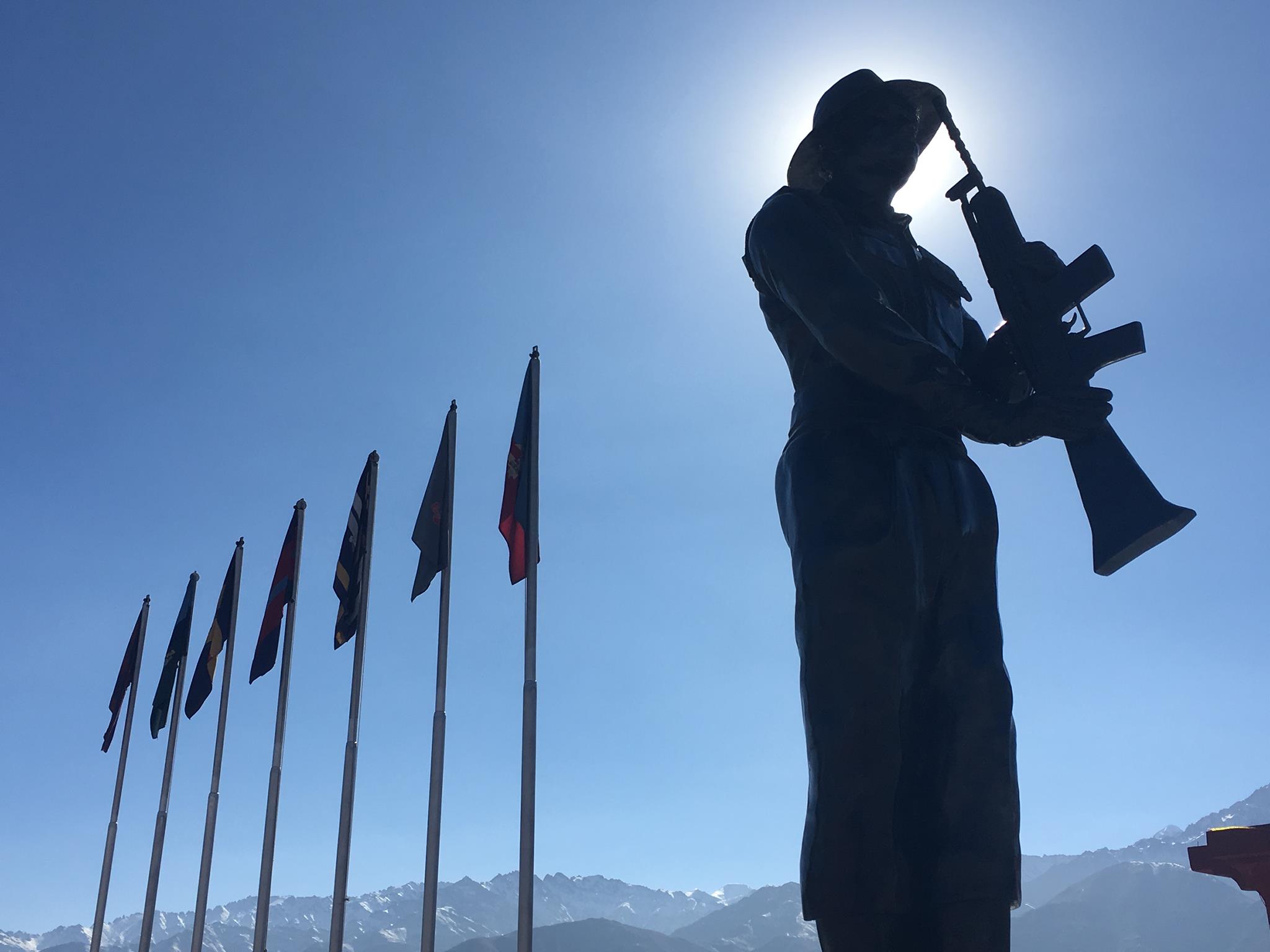 This trek reminds us of the world beyond the Wall, as depicted in the television series Game of Thrones. In case Chadar truly is the Wall, then the other adventurous trekkers are definitely the "Guards of the Night's Watch". In a span of 7 nights and eight days, these rangers conquered the Chadar Trek, crossing the Wall and trekking on a frozen river.
Honestly, it's more complex than it seems. When the ice was too weak to walk on, trekkers had to climb mountains; they crossed ice-cold rivers where the mountains were beyond reach; they fell, and they got up, but they made it.
Sugam says these trekkers are like family now and that their "never give up belief" is what helped them finish a day early!
The Second Step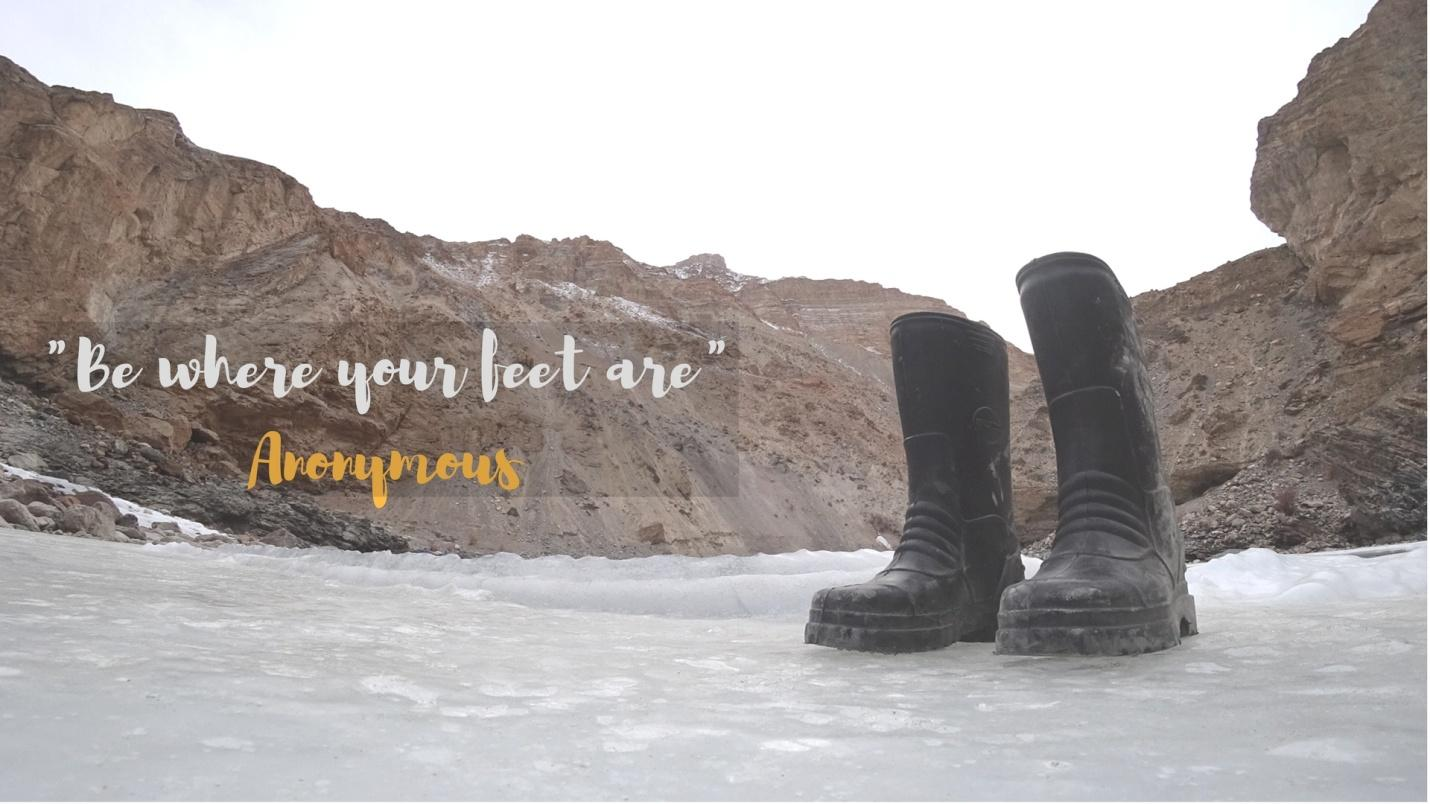 Sugam's 8-night and 9-day trip began on 15 January 2018. Thanks to the wonderful trekkers he was grouped with, it was cut short by a day! As he crossed the snow-covered valleys and Ladakh's mountain peaks via plane, he landed at the Kushok Bakula Rimpochee Airport at Leh to acclimatize.
In order to trek at high altitudes, acclimatization is imperative, as it allows the body to get used to the region's high elevations and reduced oxygen levels. Following acclimatization, they visited Tibb Caves, Tilad Do, Chilling, Shingra Koma, and Gyalpo.
First Frosty Night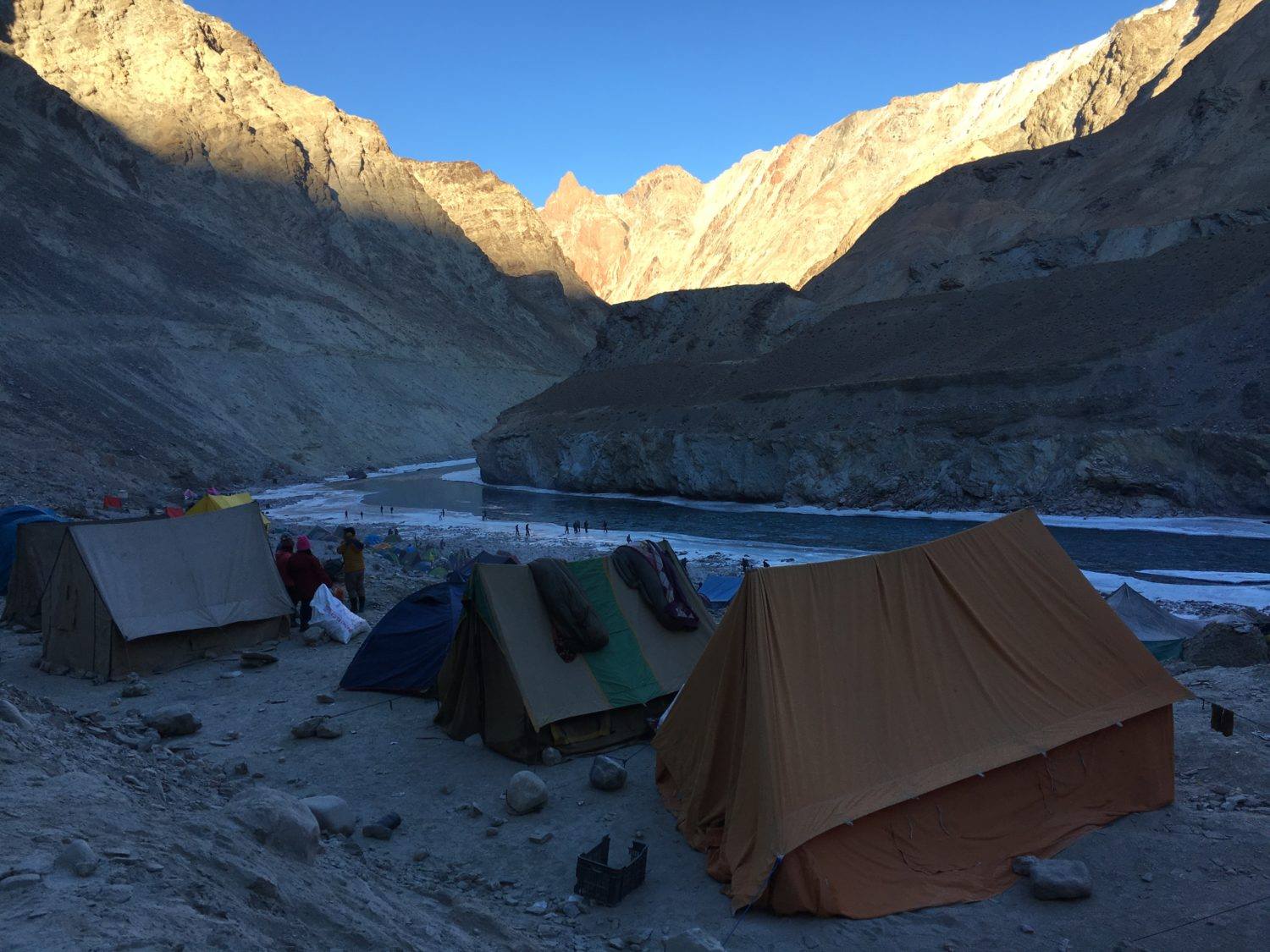 Chadar was about rubber tramping the first day on the Leh-Kargil Highway. Rubber tramping? For those who are unaware, it simply means walking on rubber tires. Excited trekkers began their journey toward Chadar from Chilling, leaving their hotel at sunrise. Yes, the adventure had begun!
They started their trek up the ice floor upon reaching Chilling with Maggi and tea. The boots tripped, slipped and rejoiced in their mishaps, and within hours, they had set foot on Tilad Do, their first night's camping destination.
As Sugam remembers, "the first night was tough, but we managed". We huddled in a blanket while the cold winds made their way inside our tents. We knew the night would be tough. Despite the night, the morning sun made up for it the next day, as Sugam exclaimed in ecstasy!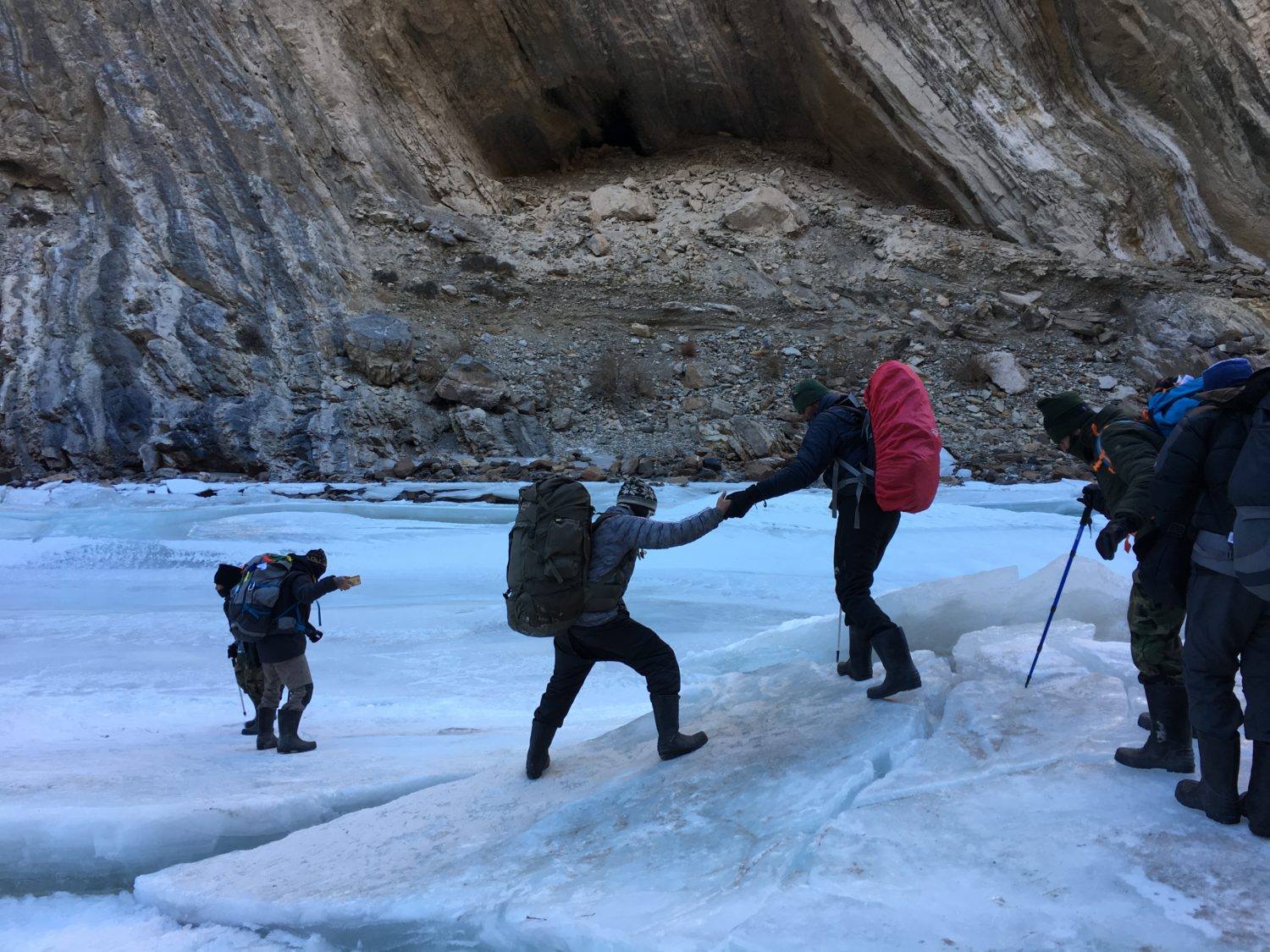 Until this day, trekkers continue to cherish the sunrise they saw the following day. Their bones ached from the freezing scenes they had seen on the first night. The men began to walk on the thick sheets of ice with little fall, sometimes even sliding through it on special occasions!
After their next campsite at Shingra Koma, they collected wood for a fire, ate a sumptuous dinner, and rested in their double-layered sleeping bags! A bouncer was slated to appear the next day; of course, trekkers didn't know that!
Getting up early did not challenge the group, even though the following day was quite cold. The next day was challenging because the route ahead was weakening; yes, news came that the trekkers should make alternate arrangements.
On the way towards Tibb Camp, the Chadar broke ahead, and the trekkers were unable to choose: either scale the slippery mountains along the Chadar, or cross the turbulent Zanskar River! Whatever the case, Mother Nature miraculously prevailed, and the trekkers set up their camps near the Tibb Campsite. Sugam tells us straight-faced with a tinge of happiness that this night was one of the most harrowing nights at Zanskar.
Check Out: Thrillophilia Played a Significant Part in Alka's Trek to Everest Base Camp!
Nerak's Dawn Stepping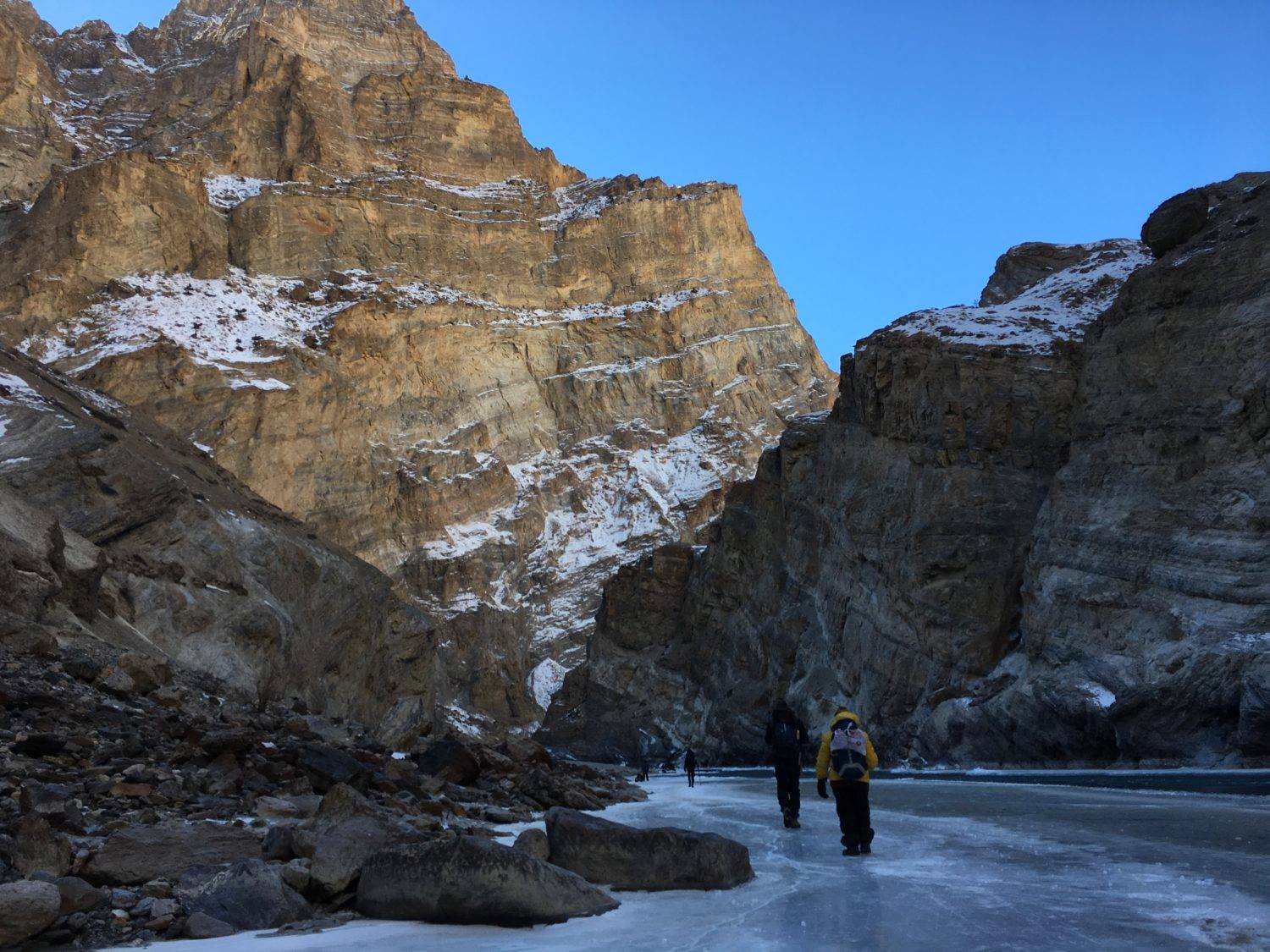 On a day when the temperature was –17 degrees at an elevation of 11,150 feet, the commoners would have expected good news, at least after an exhausting trek the previous day. Unfortunately, trek days are like Hollywood mysteries. Nothing goes as planned. As the Chadar refused to yield to the comforts of the trekkers, it kept gushing all the way from Tibb campsite to Nerak Falls. A trekker treats their days like a Hollywood movie and is willing to do anything to perform their mission. Tonight's mission was to make it to the campsite at Nerak Falls before sundown.
Boot-men had to pass rough mountain ridges and broken ice sheets all the way to the Nerak Falls. There was a sudden outburst of patriotism in them as the fall witnessed a group of trekkers singing the National Anthem loudly. There is no doubt that they had succeeded. The Nerak mission had been accomplished.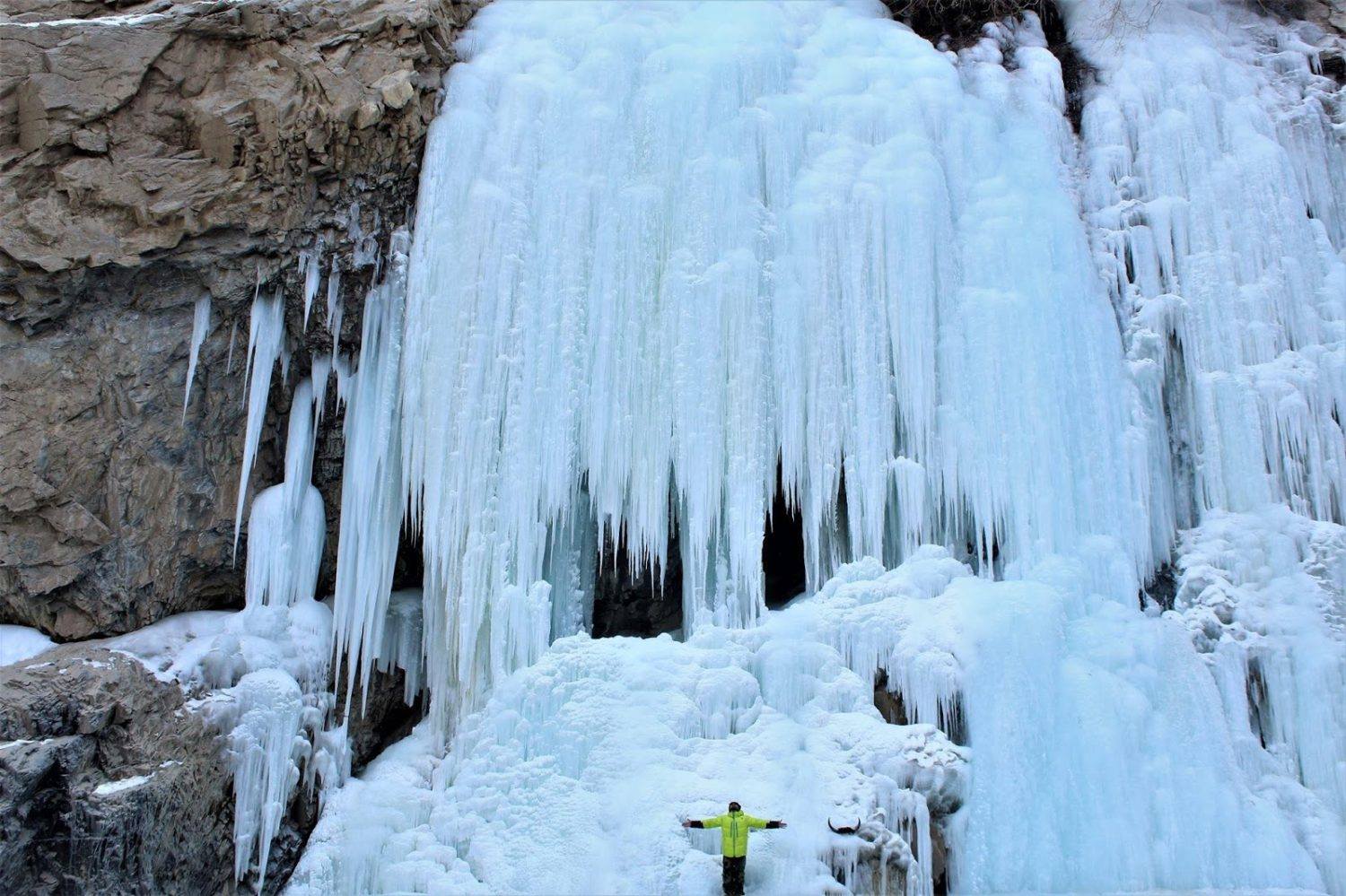 Once everything was ready, the group headed back to their hotels. It seemed relatively easy to travel backwards, the temperatures were not too cold, and it wasn't long before they officially fulfilled the Chadar Trek.
Thrillophilia asked him about the most memorable part of his trek during a casual chat after his hike. "The walk to Nerak Falls on Day 5 was the most beautiful," he stated confidently. It was like being in a documentary of National Geographic. I fell in love with its snow-capped mountains, frozen waterfall, and frozen river."
At Nerak, Sugam has indeed lost his soul!
Sugam's Guide To Chadar Trek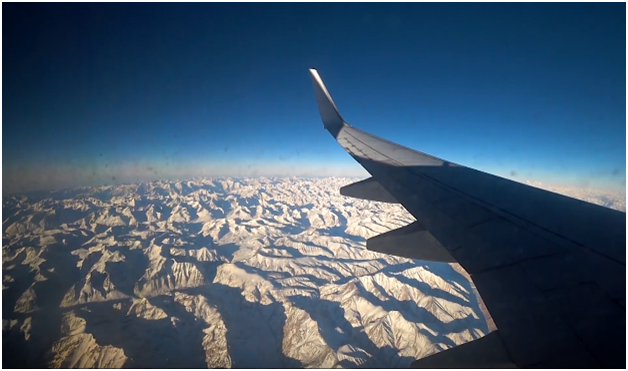 Every trekker's dream, the Chadar Trek is the Mecca of Indian treks. Here are some tips from Sugam to make your experience as convenient, comfortable, and enjoyable as possible:
Bring extra socks and clothes. Whenever you get soaked, change them.
Train to avoid cramps by walking without and with weights before you go.
Bring sunblock and some shades.
While trekking, drink tons of water and eat lots of healthy food.
Dress in layers for warmth.
Buying caps, socks and gumboots in Leh is a good idea. You'll get the best quality and the lowest price.
You can learn from people's experiences by reading blogs online.
Keep your backpack light.
Above all, do not be afraid. Rather than being a physical challenge, crossing Chadar is more of a mental test.
Sugam passionately made suggestions in order to make the trek better, and Thrillophilia was appreciative of his efforts and is making adjustments in order to make the trek a once-in-a-lifetime adventure.
Have A Look: Rahul's Unique Anniversary Celebration In Manali!