Relive The Adventurous Chadar Trek Expedition Of Bhavini And Her Husband!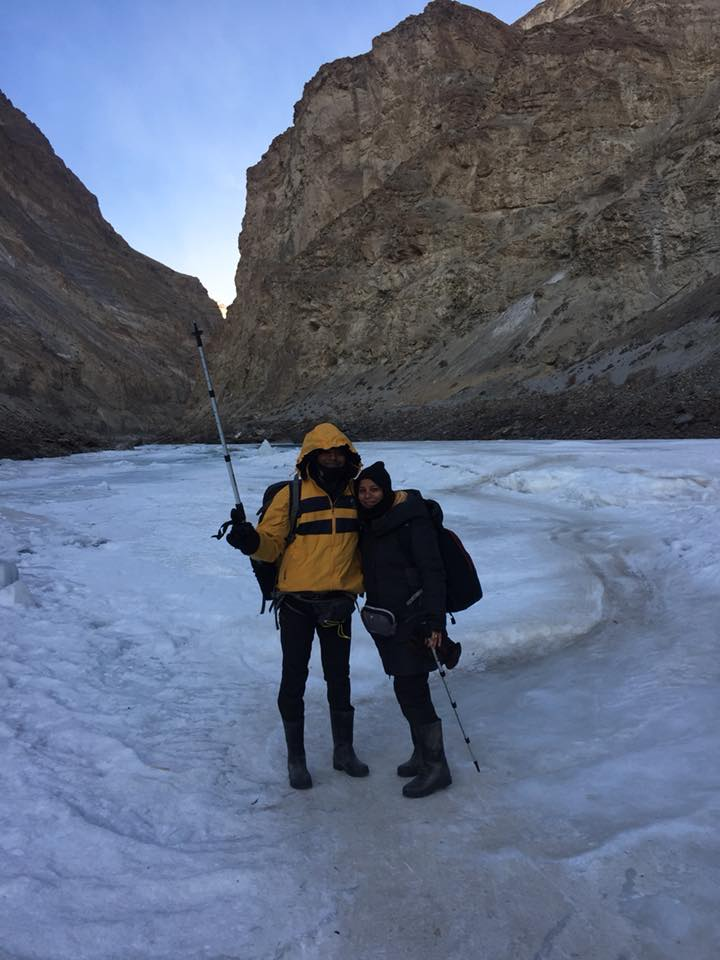 A Romantic Travelog!
"As days passed, I continued doing the same thing: getting up early and getting out of an excellent sleeping bag, but very hard to perform basic tasks, such as going to the bathroom, in -20 degrees Celsius, I removed my gloves to snap a picture on my phone; within seconds,
The cold caused my hands to freeze...a great many small incidents made me feel grateful and grounded upon returning home. It is beyond words to describe the peace, joy, starry nights, flowing water, and the sheer size of the Rocky Mountains."
Bhavini describes her experiences on the Chadar Trek in this travelog.
Meet Bhavini Dhaliwal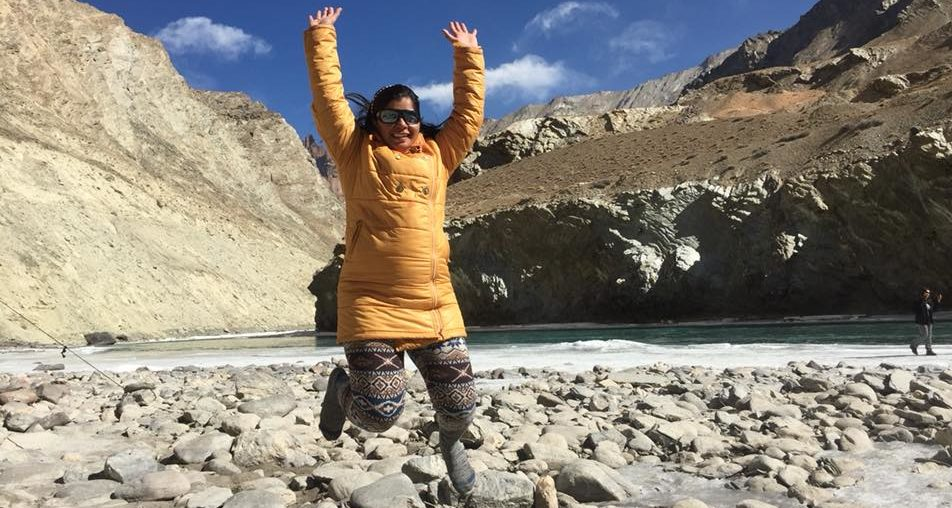 Traveling is different from being a tourist. Whenever a tourist visits a location, clicks a photo or two, then returns to the comforts of their home, they find happiness in over-the-top exploration. However, there are travelers, like Bhavini, who take the extra step to explore unknown lanes and listen to stories simply because their hearts desire it, just because it is part of their calling, just because it gives them a sense of freedom!
Meet Bhavini, an HR Payroll Manager by profession, whose office lies inside a glassed wall, but whose heart constantly beats for the outdoors! An avid outdoor enthusiast, Bhavini can often be found trekking in the mountains with her husband, and the two of them have done quite a bit together - skiing in Gulmarg, a bike ride to Lahaul and Spiti, as well as numerous small hikes across Maharashtra. She plans to take part in the Everest Base Camp trek in Nepal, watch the Northern Lights in Iceland, and take a Jeep Safari in Africa for her next set of dream vacations.
Suggested Read: Syed's Ultimate Journey To Everest Base Camp With Thrillophilia!
Chadar Trek Planning
Whether the trip is for two days or nine days, there is much planning involved. We spoke to Bhavini post-trek about why she chose to trek the Chadar. A traveler, who is passionate about the road, expressed that "Chadar Trek is a unique trek that forces its participants to survive in extreme conditions with limited resources." An internet search led her to Thrillophilia's page on Chadar Trek, and after thoroughly enjoying the genuine answers to the questions she did have, she made the trek. Making arrangements for this "once in a lifetime experience", as she describes it.
The Fellow Trekkers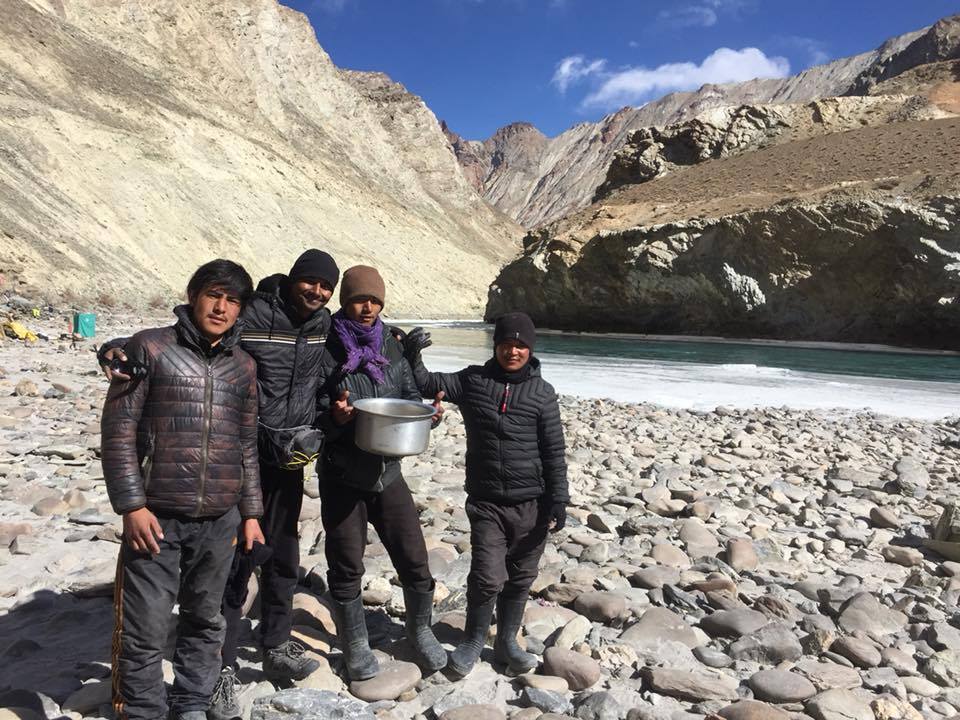 With their fantastic Ladakhi guides, Tashi and Stanzing, the trekkers set out on a challenging journey.
Roads connect travelers from different walks of life who come together to share stories with the next travelers they will encounter. Despite Bhavini's husband being with her on this self-reflective trek on the frozen rivers, she and the other trekkers formed a strong bond. As Bhavini describes them, the other trekkers were "energetic and enthusiastic".
Indulging In Love
In the Chadar Trek, we take our soul away, shape it, improve it, and give it back to us in a newly formed state, explains Bhavini. According to her, "you must participate in the Chadar Trek at least once in your life, and I guarantee that you will emerge as a new individual." They left Mumbai late at night on the 26th of January 2018 and landed in Leh the same night.
Bhavini recollects, "The temperature in Mumbai was 26 degrees, while Delhi was already freezing as it was 9 degrees, and the first moment after we stepped out of the plane at Leh was in minus six degrees."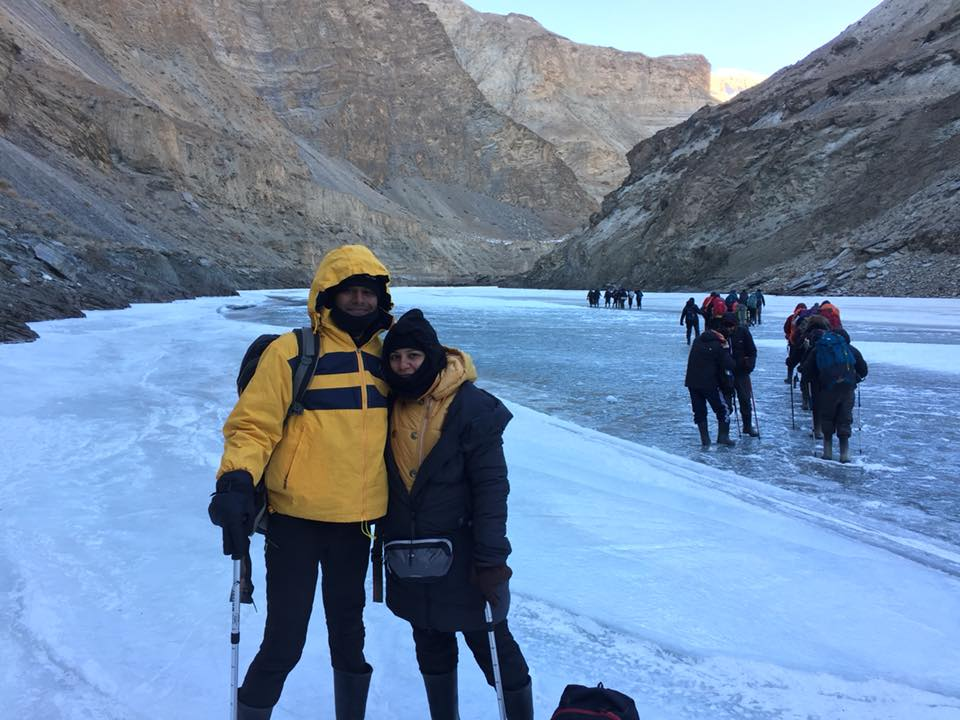 On day one of the trek, the group drove to Chilling, from where they embarked on a 26-mile hike along the frozen Zanskar River. Chadar is always special when you first step onto it, and the chances are you will probably fall by the fourth step. The guides thoroughly briefed the group before they stepped onto the ice about the ideal way to walk on ice, skating, checking the thickness of the ice sheet with the walking poles, and so forth. "Excitement was building, and the temperatures were freezing," recalled Bhavini.
Following that, the group traversed about 13-15 kilometers on the thick (and sometimes broken) ice sheets of the River Zanskar, crossing Gyalpo and eventually reaching Tibb Caves, which was the second last destination before the trek reached its ultimate destination, the frozen Nerak Waterfalls. Bhavini's fondest memories were yet to be experienced; however until she reached Tibb, she experienced peace in the sound of birds, the roar of the wind, the sound of flowing water, the mountains as they stood still and the blue skies above her.
Completing The Trek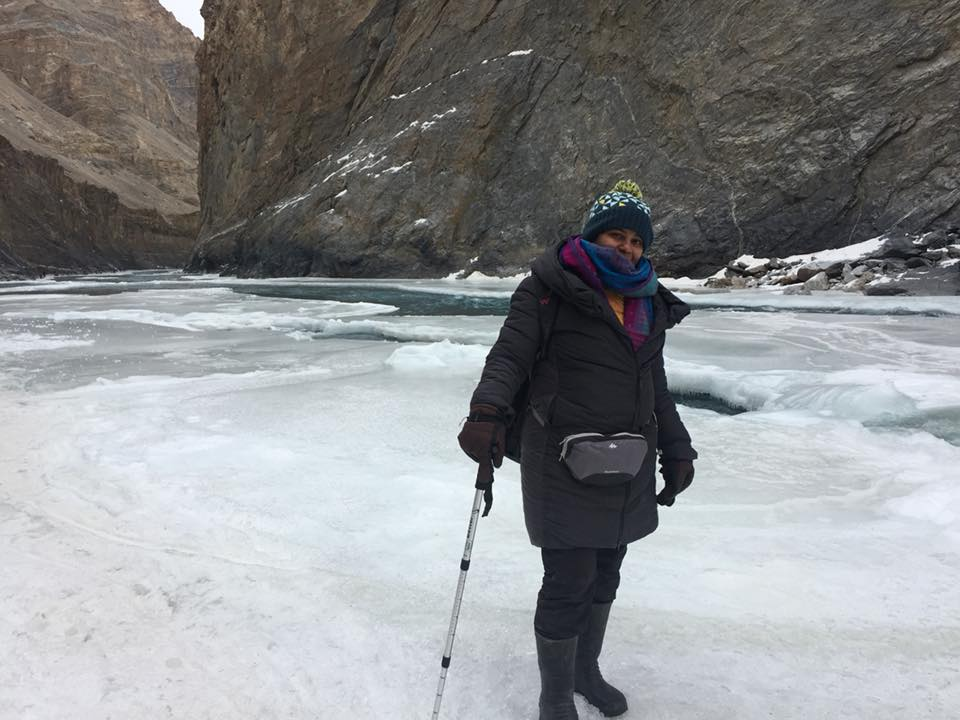 After a long trek on Chadar's nerve-wracking belt, the group reached Tibb Caves at the end of the 4th day. In addition to learning how to walk on the Chadar, they have encountered challenges and even encountered difficulties performing basic tasks, such as going to the restroom at a temperature of minus twenty degrees. On the fifth day, the group reached one of the highlights in Chadar, when the last leg of the journey was completed. The Chadar which was gorge, beautiful, kempt and nestled in the laps of nature, marked the end of a long trip. Our group advanced toward the mighty Nerak, all of 50-feet.
During this time of the year, waterfalls become entirely frozen.
In response to our question about Bhavini's Chadar experience, she replied, "While people usually choose to rest after the longest trek day of 18km, we decided to trek again for 6-8 km to visit the Nimmu village."
At the time the couple visited, there were only 4-5 houses dusted with snowflakes throughout and only 15 people living in the village. Bhavini, who described herself as a traveler rather than a tourist, spent one hour with them learning about their lives, livelihoods, and the sights of Leh-Ladakh, at least as much as she was able to learn in one hour. She continued that she found the view from Nimmu and the people there to be extremely beautiful. The following morning, on their return to Leh, she took a holy dip in the freezing-cold Zanskar River. "I couldn't hold back my tears when we had to leave those mountains behind and the beautiful river Zanskar behind", said Bhavini. The Chadar was Bhavini's home where she loved, ate, and prayed to her heart's content. Her Chadar Trek had been successfully completed.
Also Read: Basu's Family Trip to Kerala with Thrillophilia!
Bhavini Has Some Advice For You!
Unquestionably, the Chadar Trek is an impressive accomplishment. Her prior experience at high altitudes and numerous treks in Maharashtra prepared Bhavini for the Chadar Trek. Following her experience, she is kind enough to share a few tips on how to prepare for your once-in-a-lifetime trip:
An individual should wear two jackets and two thermals.
Maintain a good level of physical fitness.
Make sure you pack your bags properly. Always keep dry clothes with you, just in case you are soaked during your trek; you will need to change immediately.
Gumboots are the best footwear for walking. Do not forget to bring an extra pair of hiking shoes to use after reaching the campsite.
The Leh market offers good rainproof pants, socks, and gloves. You can avoid purchasing these items in the cities and save money.
Power banks should be wrapped in multiple layers of clothing to prevent them from draining quickly.
Finally, a headlamp and trekking pole are highly recommended.