4-Year Old Anna On Her First Trek in Coorg With Thrillophilia!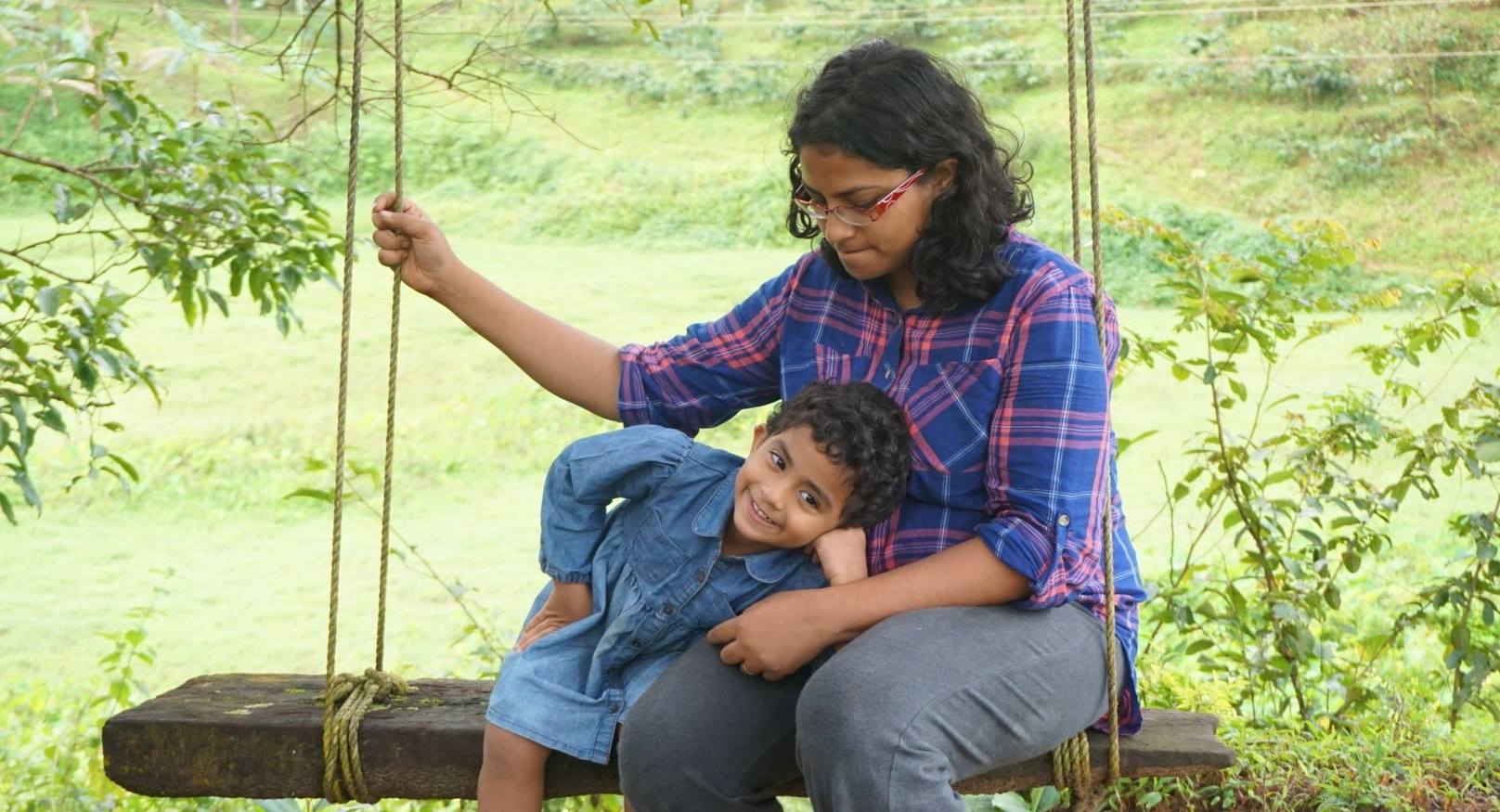 Traveling sounds fun and exciting, but it also keeps you on your toes throughout the trip. Anna's parents were traveling in the mountains from Khajjiar to Dalhousie in a very dangerous hailstorm. Anna was a three-month-old baby then, and witnessing the storm, her parents had given up all hopes. But they did survive it and haven't stopped traveling since then. That's how Anna became a travel junkie, even at such a young age.
Anna's parents, Anu and Elmo, are both travel enthusiasts and are unstoppable. With Anna's birth, their families thought that they would finally give their love for traveling a pause, but Anna had already inherited the travel genes from her parents. So, the parents took her for her first camping trek experience at the age of four in Coorg last September.
"Anna, even at her age, is very adventurous. She loves climbing, whether it is trees, mountains, or anything that can be climbed upon. Whenever she sees a mountain, she asks "Appa, are we going to climb it?" She loves to walk on rugged roads and cries to climb on adventurous rocks."
Let's Begin!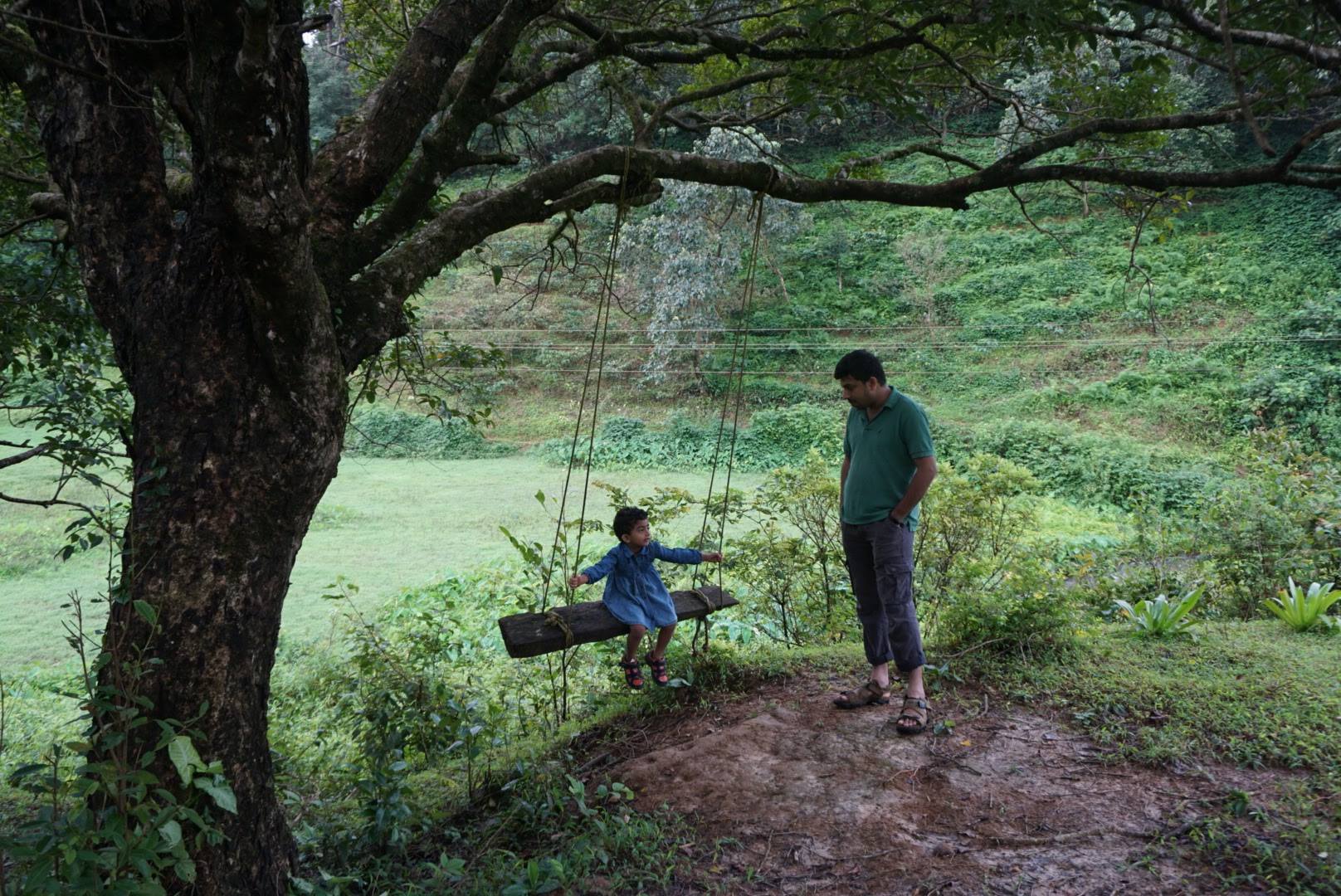 "Anna's father and I decided to go to Coorg from Thrillophilia for her first camping and trekking experience. She is a cool kid and we wanted nothing lesser than that for her first-ever adventurous camping trek. And so, we decided on a road trip to Coorg. Our families, being the protective bunch, would have worried, hadn't known about the camp accommodation, so we decided to keep it a secret from them. However, we invited our friends from Chennai and Bangalore, who are just as big of travel enthusiasts as us, and set out for our daughter's first-ever camping adventure."
The family with their friends reached the Maday Holidays camping site recommended by Thrillophilia. After taking a rest for a while, they were talked through about the Nishani Hills Trek by their camp guide, Sai. The trek covered 6 km and was moderately difficult covering streams, forests, and 4 ft. tall grasslands. Seeing Anna with them, Sai was a little skeptical but encouraged them anyway and willed them not to quit in the middle as the exit route was different than the entry.
Anna, The Leader!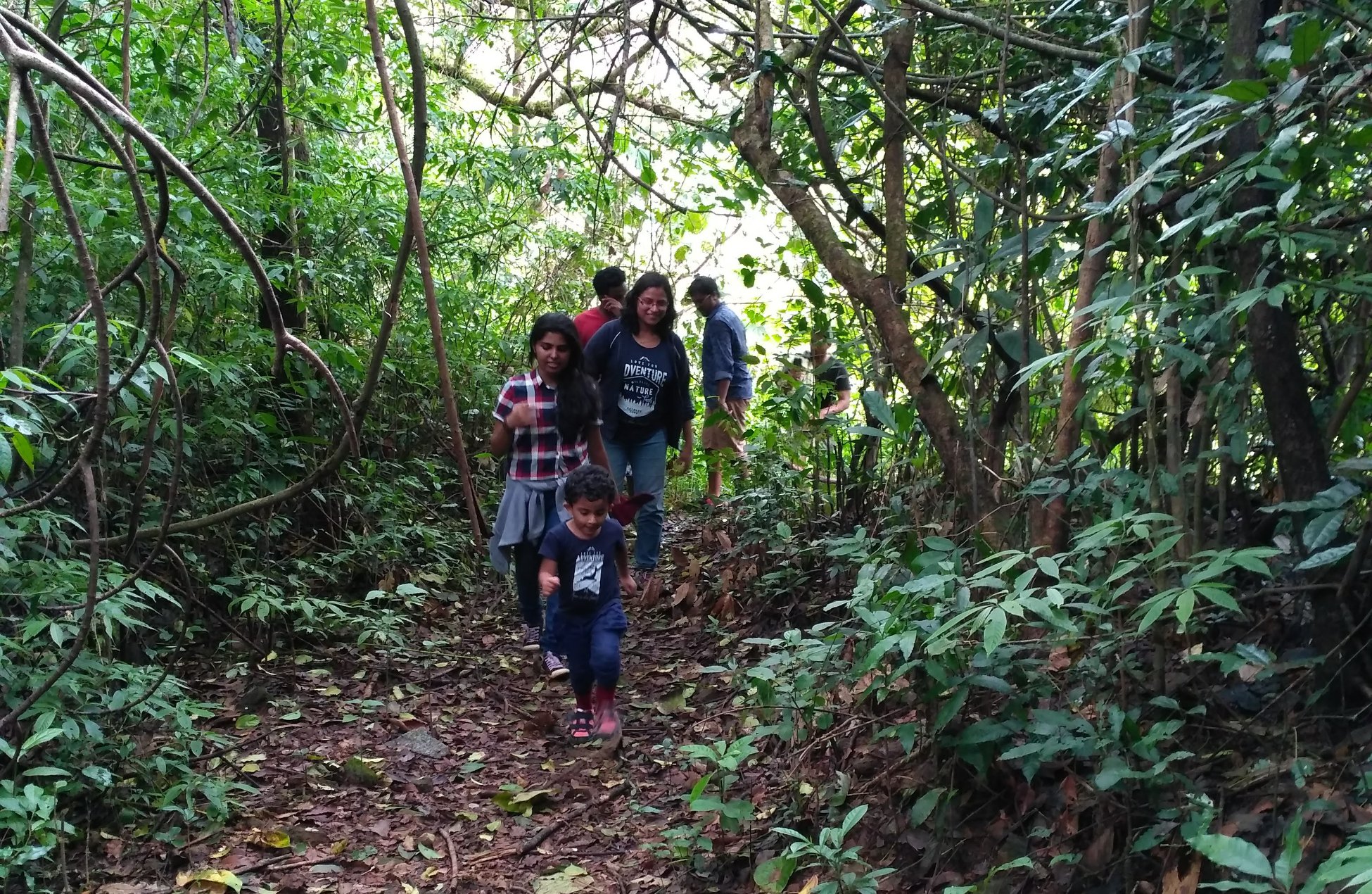 "As we started on our trek, some of our group members decided not to go ahead seeing the height. But Anna being the brave girl that she is, helped others to muster up the courage to go through with the journey. Our little girl had high spirits and was jumping through the grasslands and forests. Whenever anyone would start to give up, Anna would go and talk to them and help them gather the strength and courage to not give up and keep walking. We reached the peak of our trek with Anna walking ahead all of us holding the camp instructor's hand. It was raining heavily by then so we couldn't stay at the top for long and we started marching downhill."
Leeches Storm!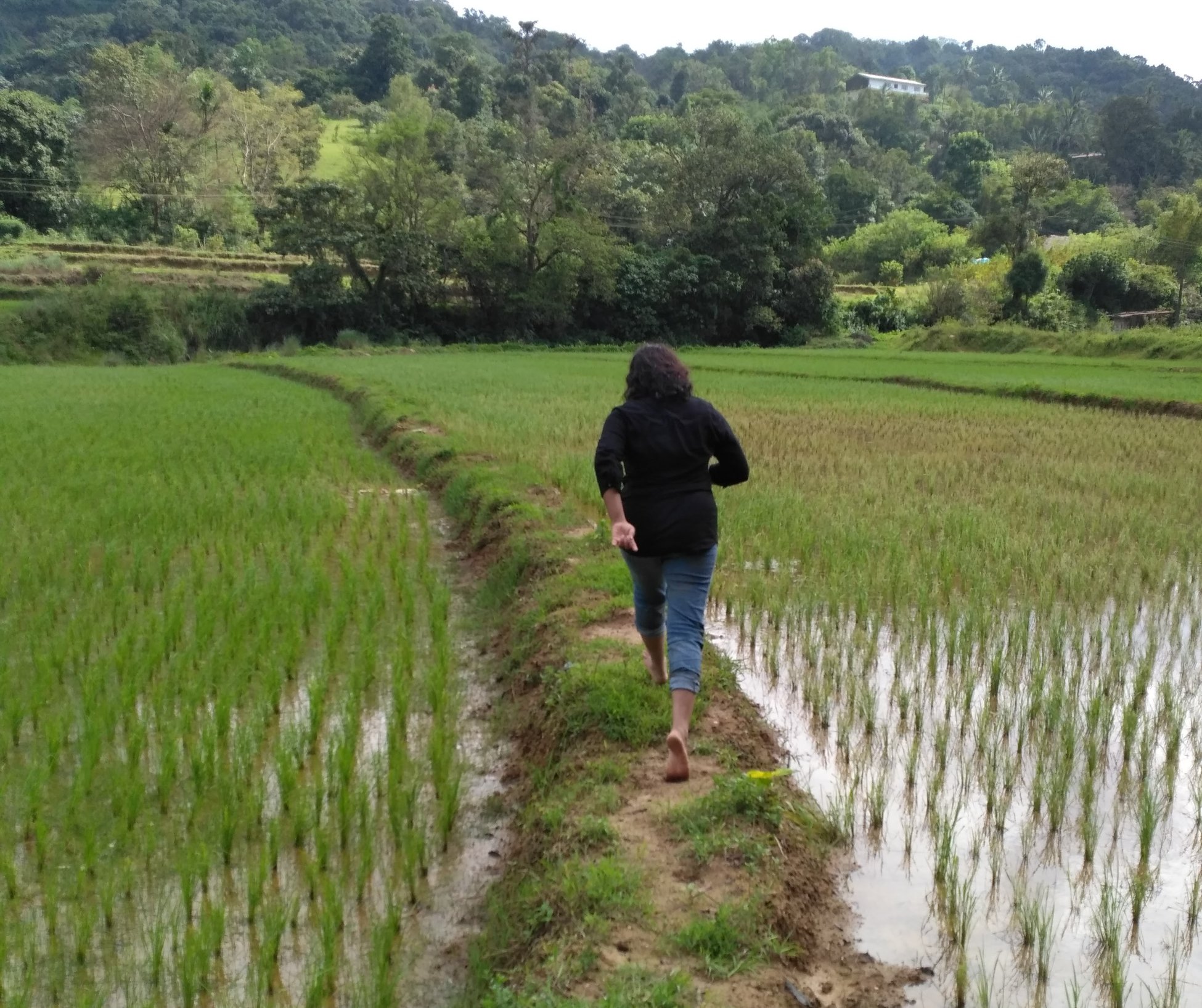 "The trek was a stretch of 6 km and being a mother, I was a bit worried whether we would be able to finish it. But seeing Anna in her high spirits I immediately knew that I was worrying for nothing at all. The trek covered jungles that grew only difficult with the uneven branches, thorns, and uncountable leeches. Although, we were carrying salt with us to get rid of them. Everyone was getting scared and annoyed by the leeches, but the kid went on bravely and that gave others spirit to go on too."
By the hour it was time to climb down the hill, it was raining heavily. Everyone was covered in mud and leeches including Anna. She had gotten bitten in many parts like neck, head, shoulders, and belly. But to everyone's surprise, our little girl took it positively."
It grew darker as the night came and it started to drizzle. However, everyone decided to camp in the open. They lit a campfire and enjoyed nature and the breeze and had a happy time.
Also Read: Ritish's Adventurous Zanskar Dip On Chadar Trek With Thrillophilia!
Highlights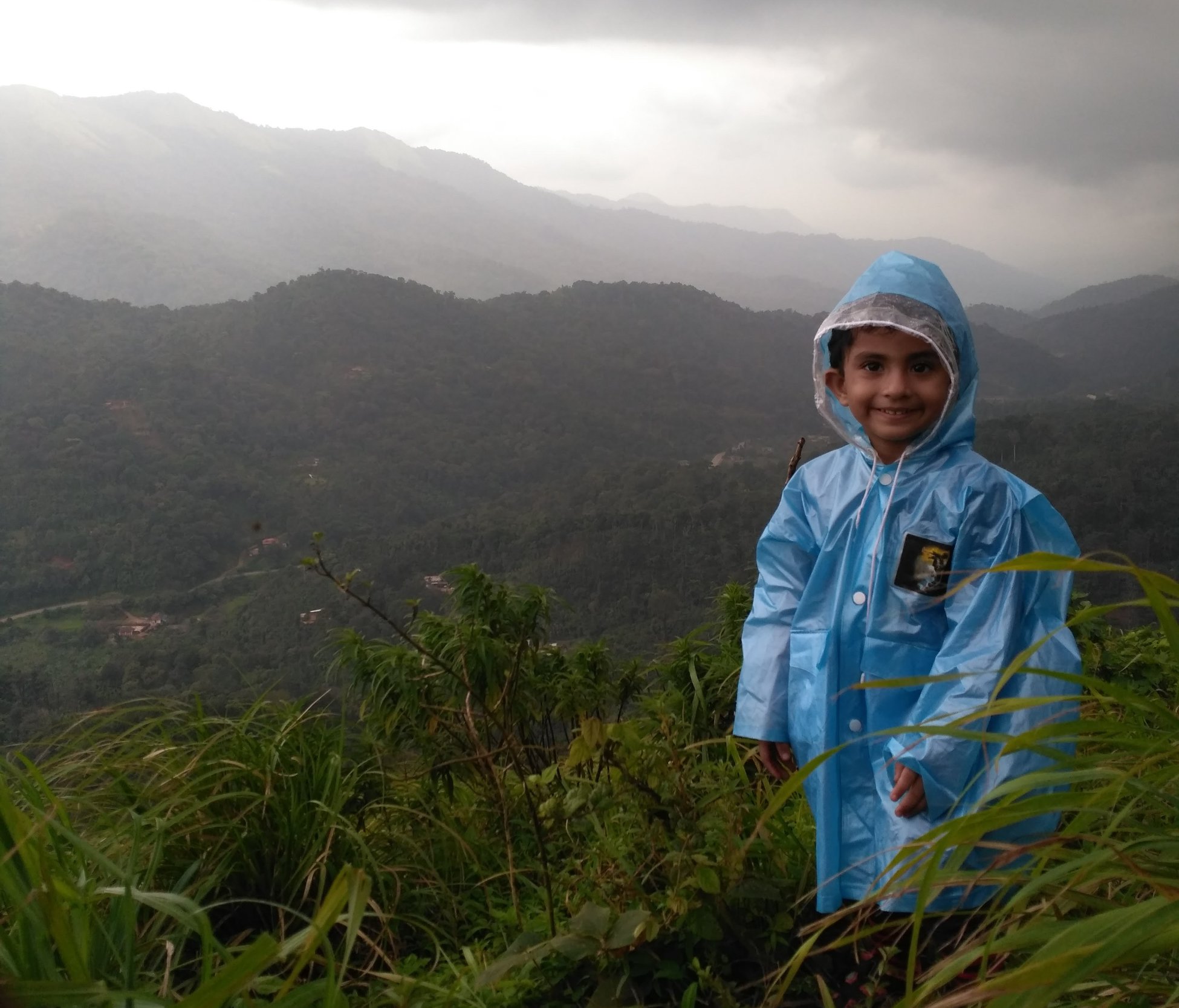 In the morning, the family went to the stream and took dips in it. Later that day the trio went on a jeep safari to the coffee plantations with their camp host, Sai for a little extra adventure. As the safari went on and the jeep started off-roading, the path got rugged and dangerous. But little Anna, instead of being scared, was very excited and happy. Elmo and Anu were also witnessing the rush of adrenaline running through their bodies. After the safari, Anna took a bath with the wild elephants at the Dubare Elephant Camp while her parents enjoyed their coffee. Anna was enjoying every minute with the wild beasts.
"One memory that I will always hold on to is the camp out in the open while it was raining. It was a cold night but the warmth of our family helped us achieve it and held us together.", says Anu.
To All Parents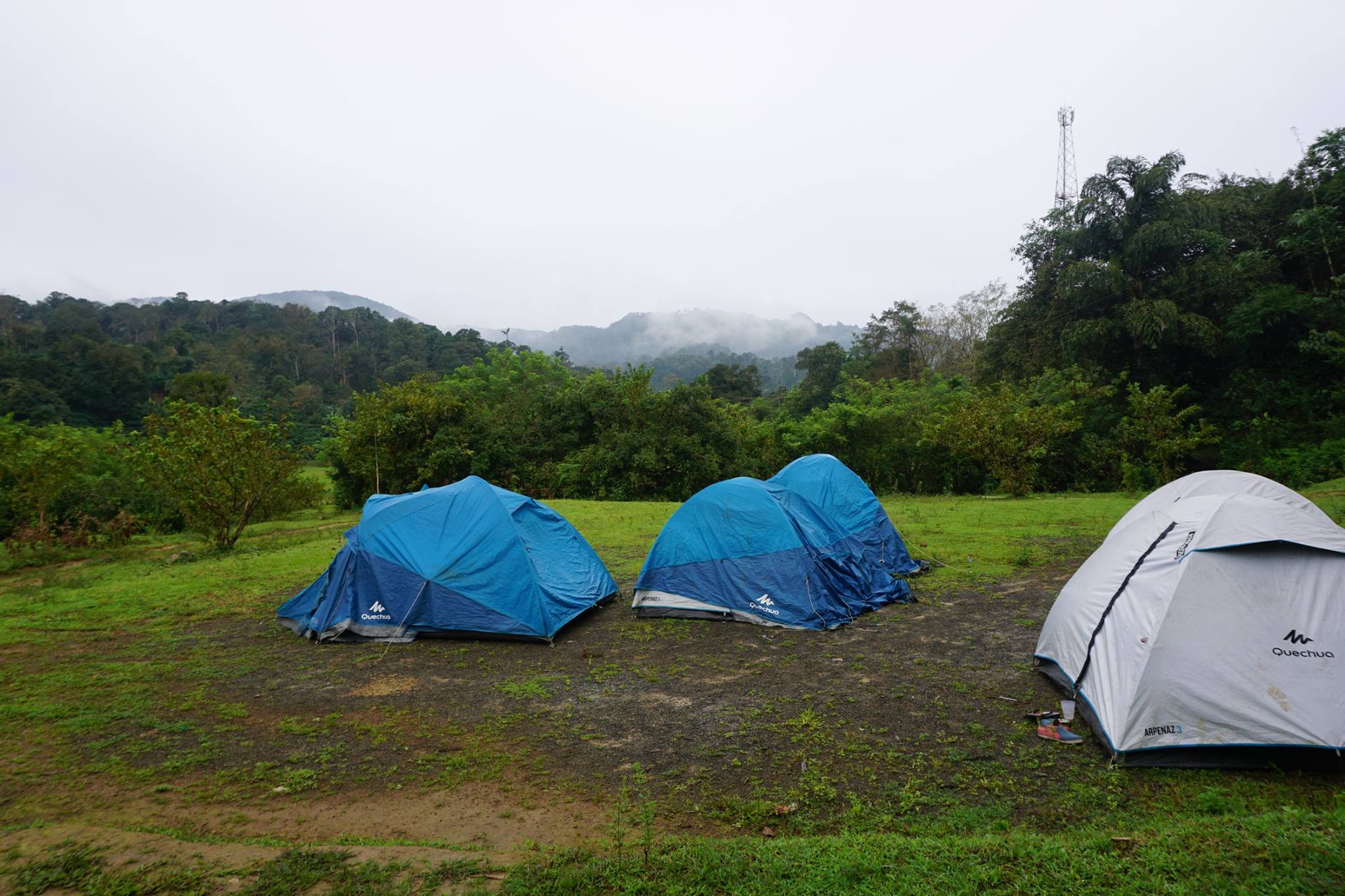 "The world is competitive as it is. We want our daughter to grow up in the laps of nature as much as possible and be at peace as much as she can before she joins the rat race of the world. Being able to give her this experience is what makes us happiest."
"Being in that difficult train, overcoming the challenges faced by us in the forests and the chilly night, made us realize how we are always together, no matter whatever the terrain and times maybe. We would love to go on more such trips and make our daughter experience the raw nature and fall in love with it."
Suggested Read: Girls Gang In Valleys Of Tadiandamol- A Friendship Saga By Thrillophilia!
Word Of Advice For The Readers
Keep your gears ready at all times because you can either trek or go white water rafting.
Carry extra clothes with you because the weather is very unpredictable.
You need not worry about food. Even at local spots, you can find good quality and delicious food at cheap rates.
Try taking public transport from Mysore to Coorg. The experience is a different feeling altogether.
You must witness the elephant bath at the Dubare elephant camp.
Nisargadhama deer can make your day even better.
For a trekking junkie like you, Tadiandaol has to be on top of your list.
Puthari Festival is held at the end of November or the beginning of December. It is filled with folk songs and dances. If you are around Coorg during this time, do not miss the festival.
The temples and monasteries give you a certain type of inexplicable peace.
Check Out: A Trip Well Spend In Natural Bliss By Vijay And His Friends With Thrillophilia!