Umesh Joshi's Thrilling Tale of Stok Kangri Trek With Thrillophilia!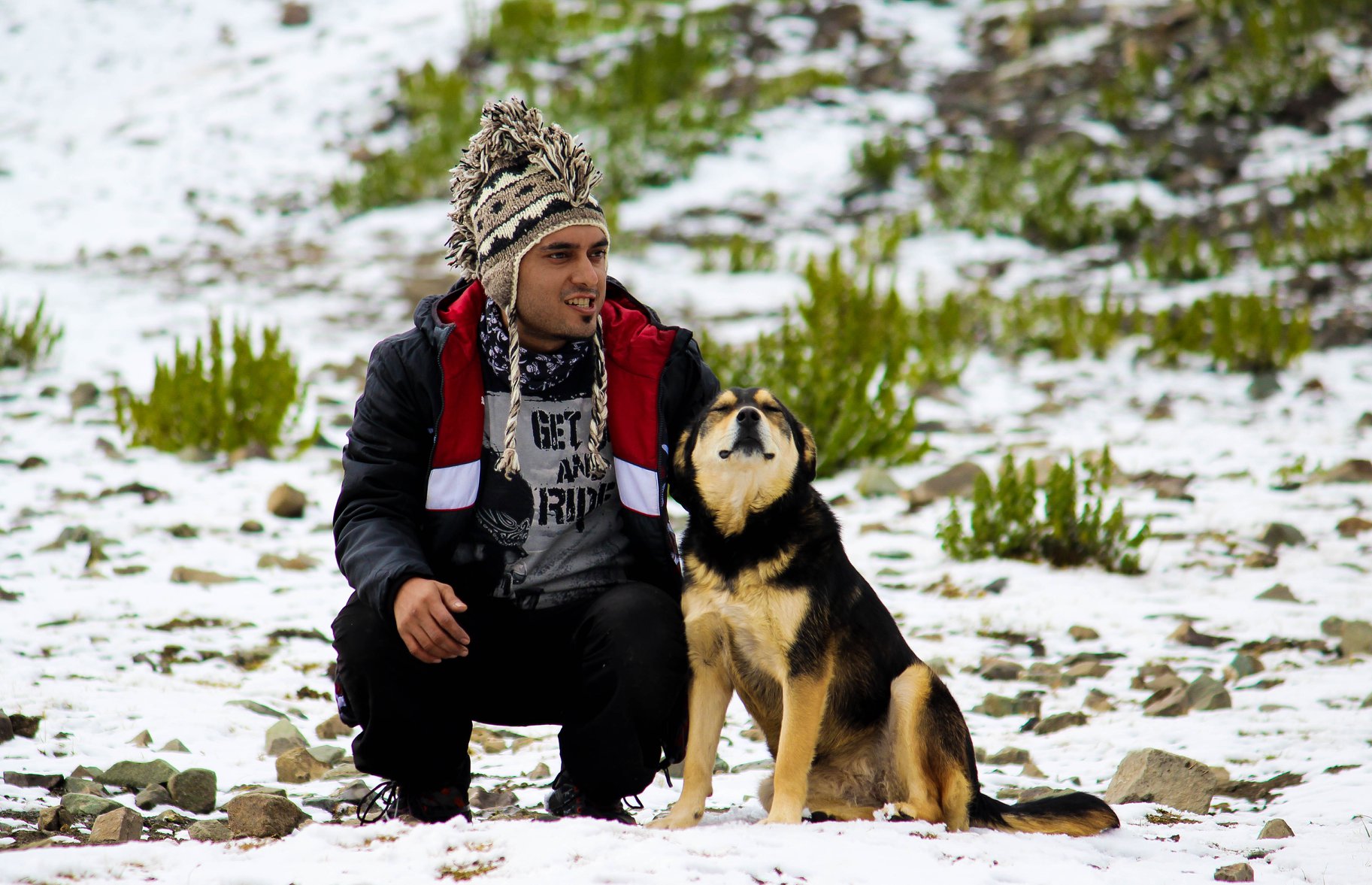 Unless you can boast about how wonderful your travel was, it was likely just a trip you took for no particular reason. A professional IT manager named Umesh, always had a passion for tripping and capturing moments that stood out in the memory. The best therapy for him is travel, as it is a way of making life more meaningful. In spite of suffering from slip discs and cervical issues, he decided to accomplish the Stok Kangri trek together with his wife Geetanjali and other travelers. This is their story!
The Stok Kangri Trek takes place at a height of 20,500 feet above sea level and is a thrilling experience for those being challenged by the high altitude. The trek takes place in the Himalayas' lofty mountains where Ladakh is the homeland of the high Stok Kangri Peak. In addition to the picturesque surroundings, lots of ridges, and fantastic snow accumulations in winter, the summit also offers breathtaking views of the entire Zanskar region and the Indus Valley.
Why Stok Kangri?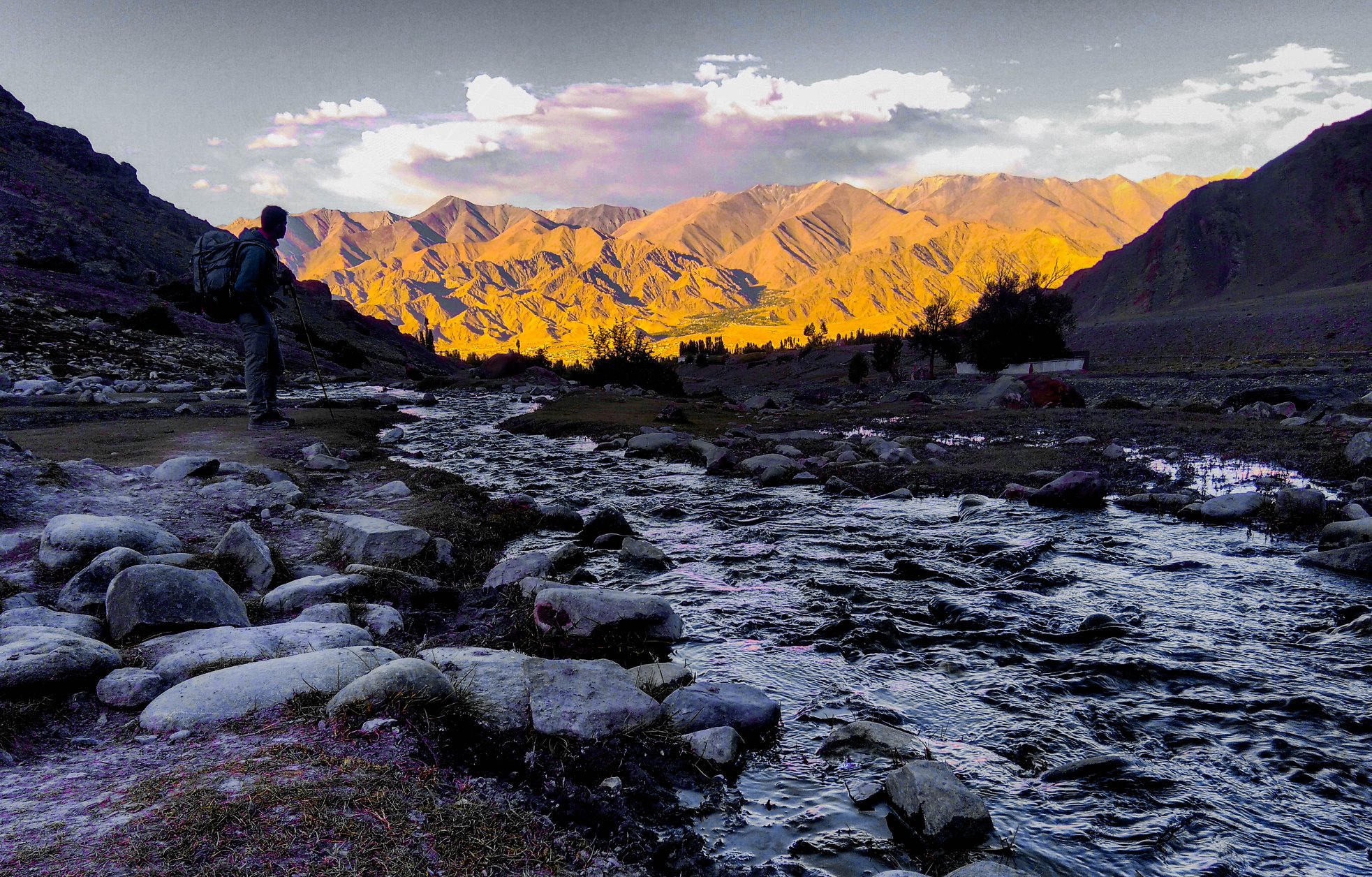 "I had planned to take the Chadar Trek but something happened, I guess a landslide or turbulent weather that made me cancel the trip on not just one but on multiple occasions. It was then that the team at Thrillophilia convinced me to opt for the Stok Kangri Trip and after considering it for a while, I said yes. The main attraction for me was the height."
The high-altitude Stok Kangri trek was a nine-day excursion offered by Thrillophilia that commenced and ended in Leh. In addition to the trek, travelers were encouraged to prepare physically and mentally for at least two months before they embarked on this expedition in order to ascend. The trek offered breathtaking views of Mankhorma, Chang Ma and Stok village, as well as the striking scenery that surrounded these sites. The travelers were expected to trek for approximately four hours each day, except on summit day when approximately twelve hours were required.
"The only reason to choose Stok Kangri Trek, as I said before, was because of its daunting height and difficulty. When we speak of the Chadar Trek, it is nothing but just simple, straight trekking with variations in temperature and walking on the ice sheet. In comparison, Stok Kangri was nothing short of a roller coaster ride. I had been on a few treks before but Stok Kangri was a challenge that I accepted."
The Preparation: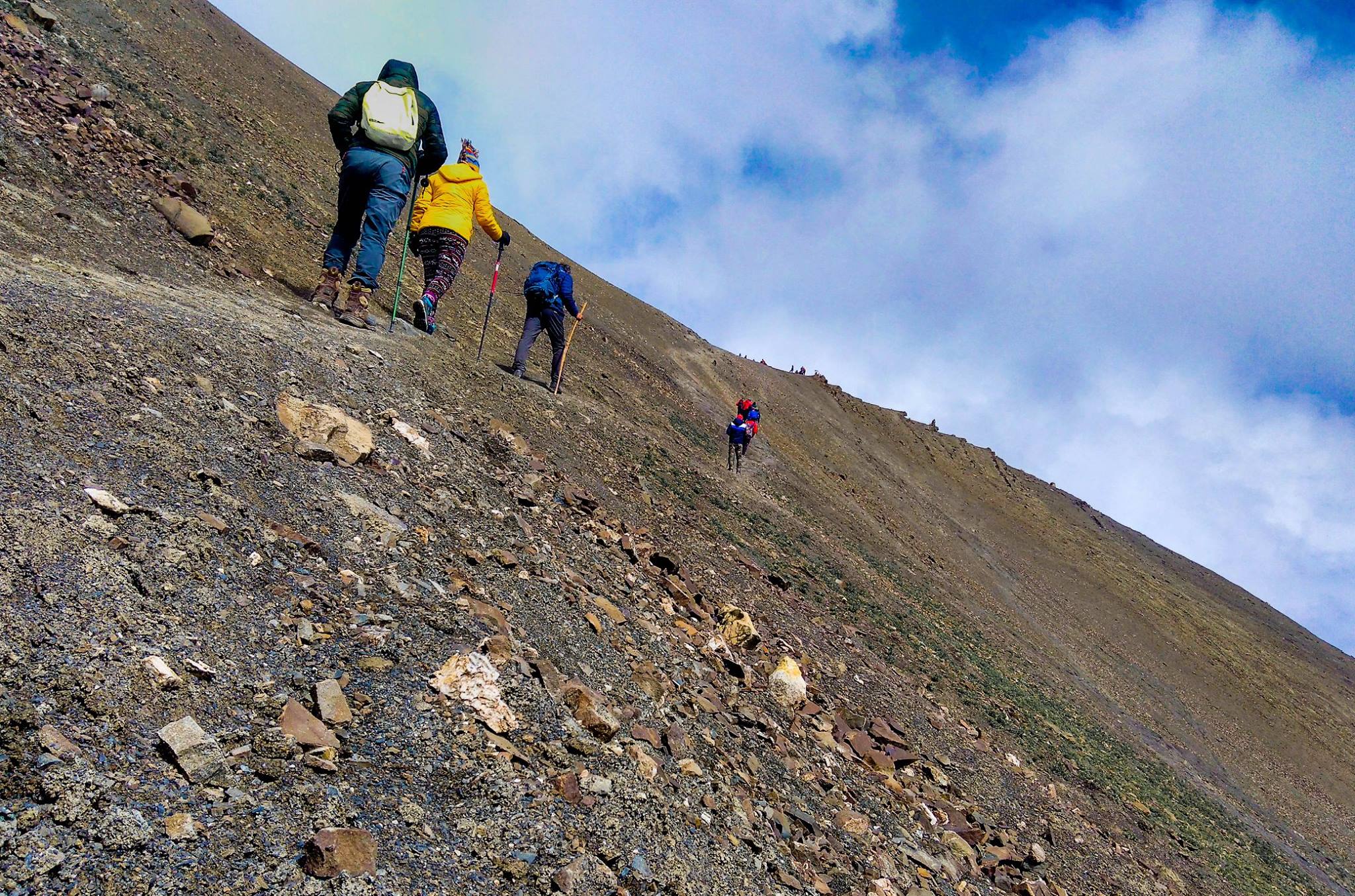 Umesh states,
"We had about three months' time to prepare ourselves physically for the trek that we had already booked. The Thrillophilia team had already advised us on all the prerequisites required for the kind of trek that we were ready to embark. I feel the lack of such useful communication could prove dangerous and as I was traveling with my wife, I didn't want to take any risk. It was really impressive of the team to inform us way beforehand."
A comprehensive guide to Stok Kangri
"It is not a story if it is not worth sharing with others."
Trekking to such heights can be challenging for those who are unprepared. However, there are times when there is inadequate information regarding such a trek, and travelers are forced to turn back halfway. These treks are recommended for people who are proficient in mountaineering, or who have scaled elevations of 4000-4500 meters. The climatic conditions also played an immense role with variations from -20 degrees to water that was freezing cold, so it was a vital duty on the part of the tour company to inform travelers about all the dos and don'ts and to encourage them to follow these instructions. Some elements, such as carrying first aid kits and prohibiting the consumption of alcohol, avoiding nighttime treks, having health insurance and wearing enough warm clothing throughout the journey made the journey an enjoyable one.
The Trek Trip:
Our adventure began in Leh, the land of high passes, where we stayed in comfortable, pocket-friendly guest houses to begin our journey. The travelers went on an acclimatization hike during the second day of their trip and discovered the well-known monasteries of Shey and Thiksey around Leh (Questions to ask when traveling to Leh). As soon as they reached Stok village the next day, Umesh, Geetanjali and their fellow travelers, as well as the guide, witnessed the majestic beauty and serene scenery of the Chang Ma trek.
Following three days of acclimatization, the group headed by a guide began the official trek to Mankorma from Chang Ma. They passed rivers, green trees, and ice deserts as they traveled. At Mankorma, they pitched tents for the night. From the base camp at a height of 16,300 ft, travelers could observe the Gulap Kangri and Parcha Kangri peaks. As the oxygen levels began to drop and they grew accustomed to such climate conditions, the leader suggested resting and preparing themselves for the big challenge. This was after setting up the tents.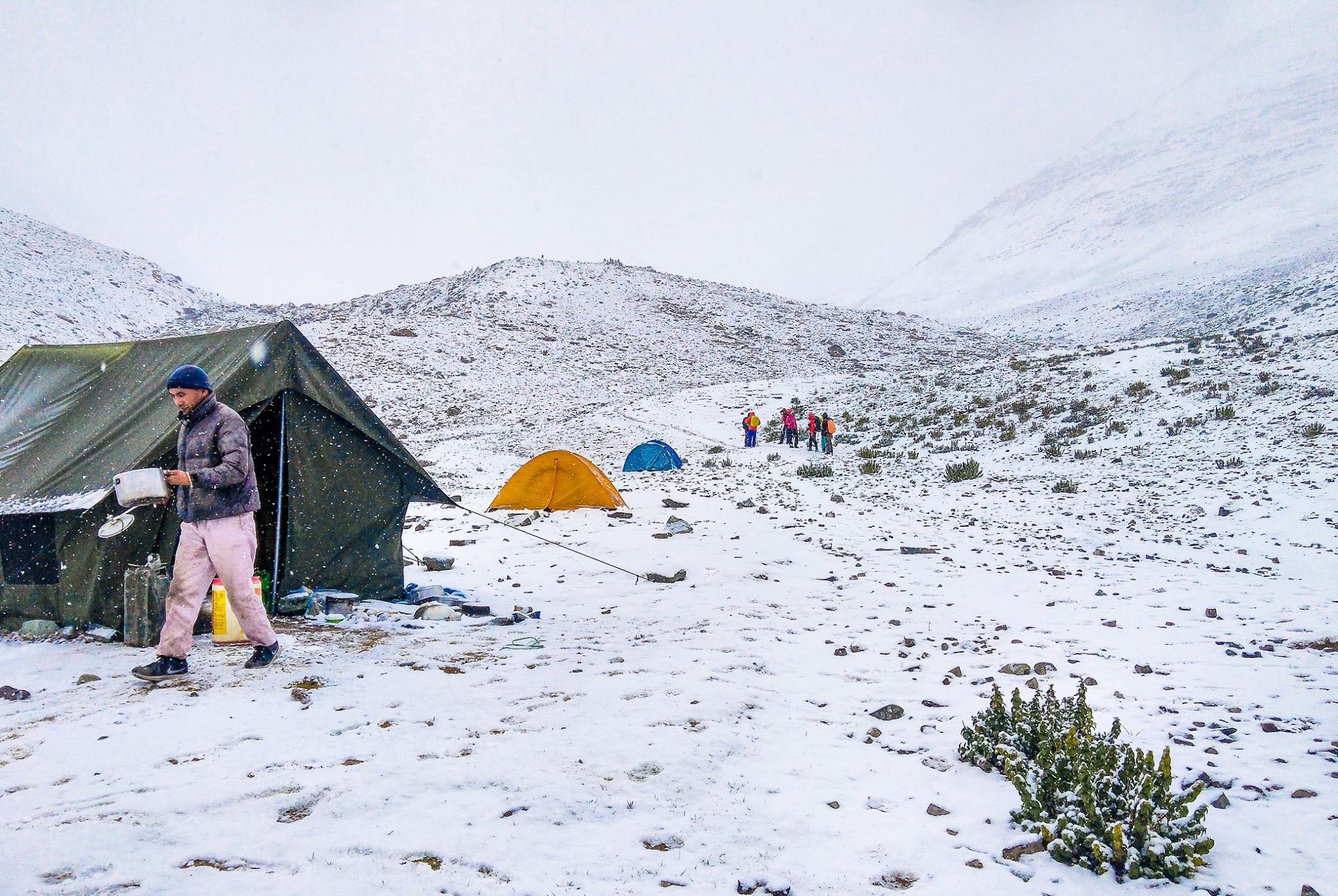 Eventually the day arrived when Umesh, Geetanjali and the other travelers prepared for the greatest challenge. From the base camp (16,300 ft) to Stok Kangri (20,080 ft), they had to ascend over glaciers and steep slopes for around nine to ten hours.
Umesh, having reached the peak with much difficulty, described the experience as incredible. In his words, "The accommodation provided by Thrillophilia was exceptional and quite different from any other guest house that I have stayed in before. From my experience from the top of the trek, I can tell you that my experience was truly captivating. It was a sight my wife and I would never ever forget." He explains, "Mountains have a unique addiction that became apparent to me when I gazed downward from Stok Kangri."
After spending eight full days immersed in nature and mountains, the group returned to the base camp and Leh via Stok Village, following a challenging trek.
Also Read: How Akshay Conquered The Everest Base Camp With Thrillophilia
Travel Companions: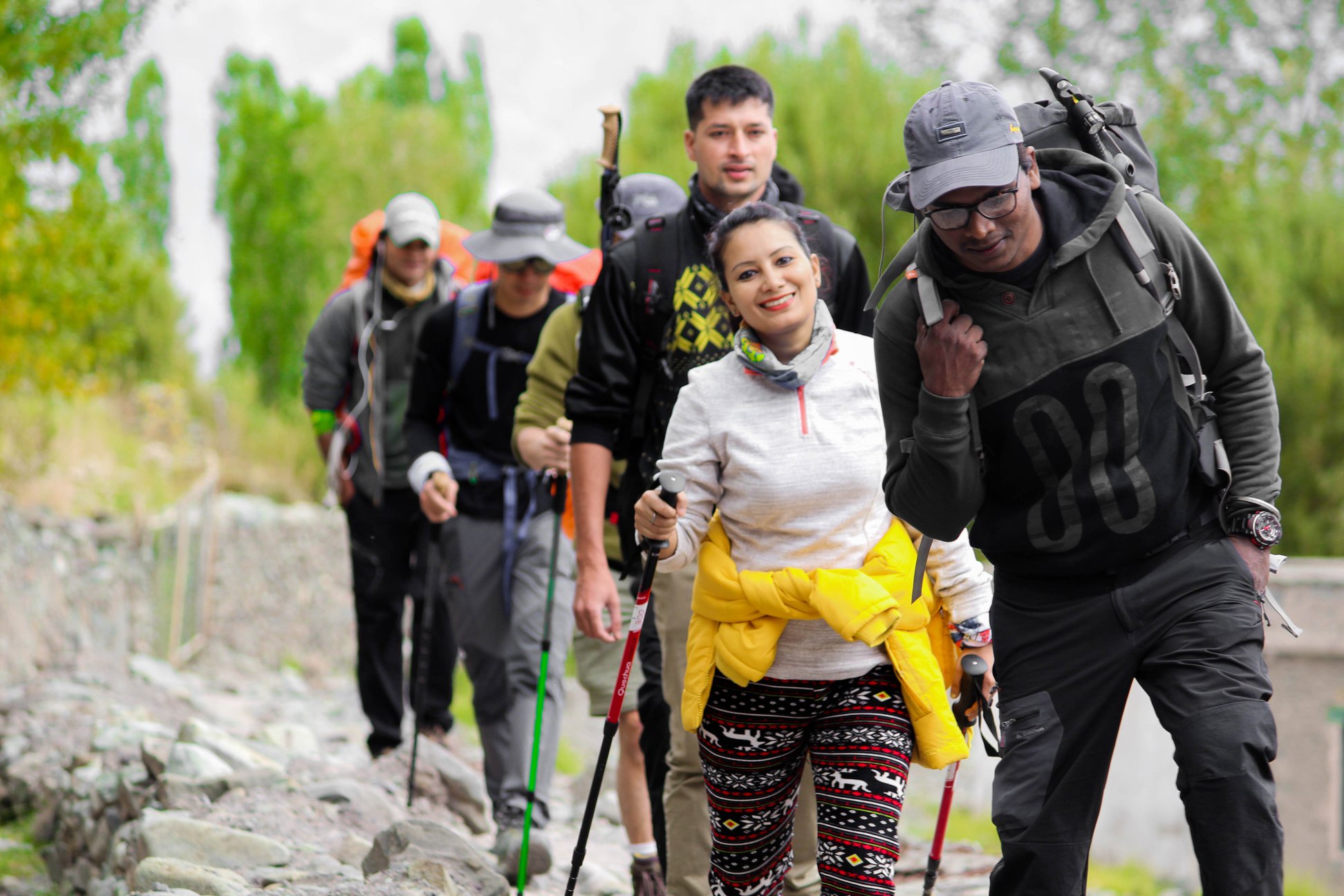 When traveling, a reliable company adds an element of elegance that is rarely experienced by individuals. Umesh and Geetanjali were incredibly fortunate to have found fellow travelers during the trek who became close friends. Among their group were Hemant, a practicing physician; Tony and his friend Erik are both from Malaysia and had previouslyundertaken a few treks in Nepal; Praul, the youngest and the funniest; and Abnish and Ritesh, both IT professionals and marathon runners.
During the trip, the group was led by Salman and Stenzin, a dynamic and efficient duo who made the entire trip experience worthwhile.
Experience with Thrillophilia: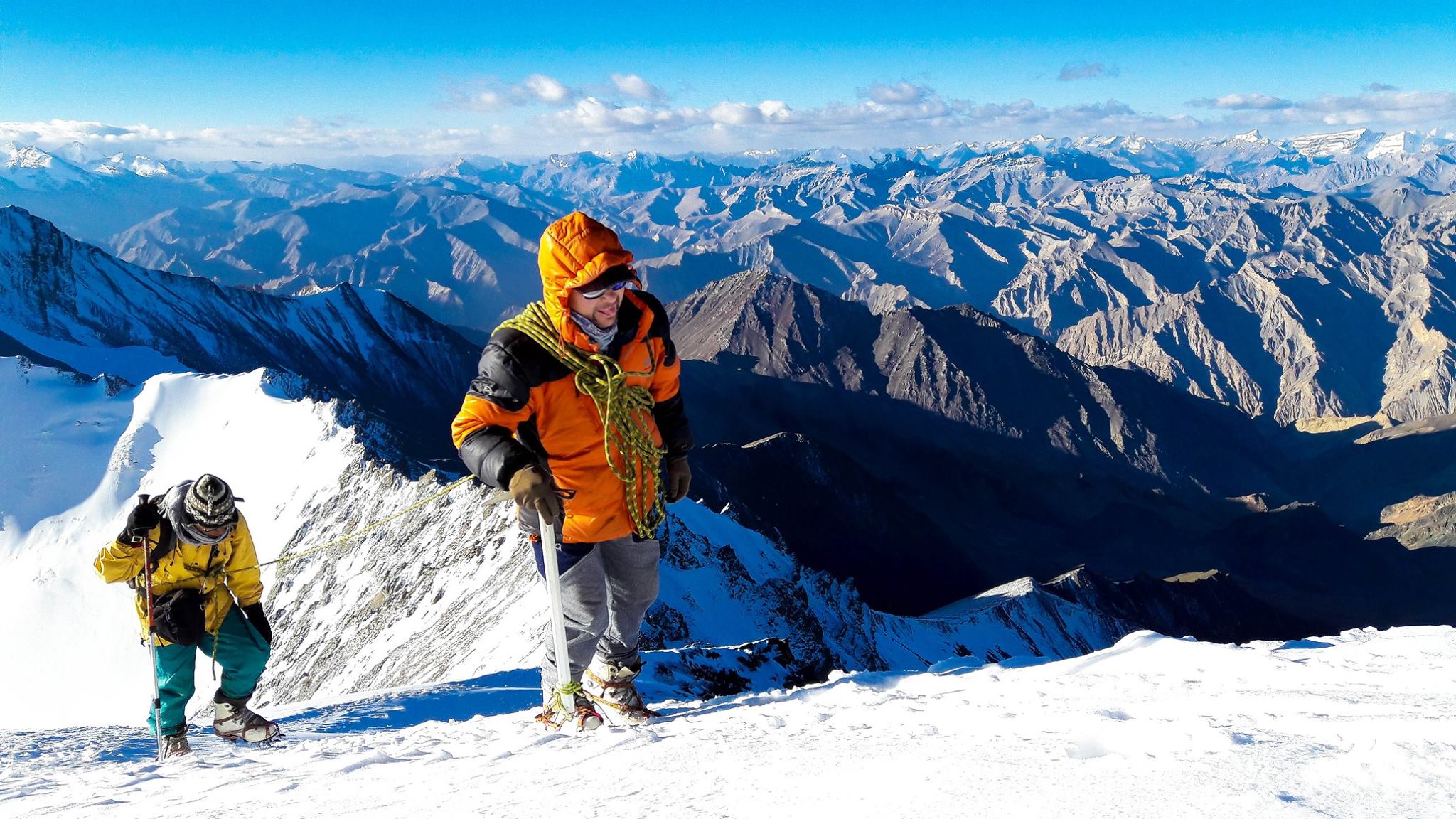 In Umesh's opinion, Thrillophilia made the booking process for the trek as smooth as possible. According to Umesh, "You know how it used to be earlier. You had to directly talk to the organizers or take the responsibility on your shoulders, but Thrillophilia made it all easy for me and my wife. They created a WhatsApp group with all the fellow travelers and leaders in it and reaching out was never that easy before. The professionalism impressed us throughout, even during the trek and you need that kind of confidence with the third party more than on yourself."
Additionally, he explains, "Money was another issue that's why I chose to book through Thrillophilia because had I booked directly with the operator, it would have been a concern."
Words for the readers:
"You know, this was not my first time in Ladakh. I had been here twice because it always attracted me. It has a certain charm that you just cannot find anywhere else and I intend to go back there again. It always feels like I am at a different place altogether. Besides, Thrillophilia made it so easy for us. Trips like Himachal or Kashmir excursions are okay as you go with the flow. But when you are planning on something this adventurous like this, you really need everything planned and managed to the very last detail, something an only experienced guide will do it for you."