The Ultimate Journey Of Sateesh Conquering Chadar Trek With Thrillophilia!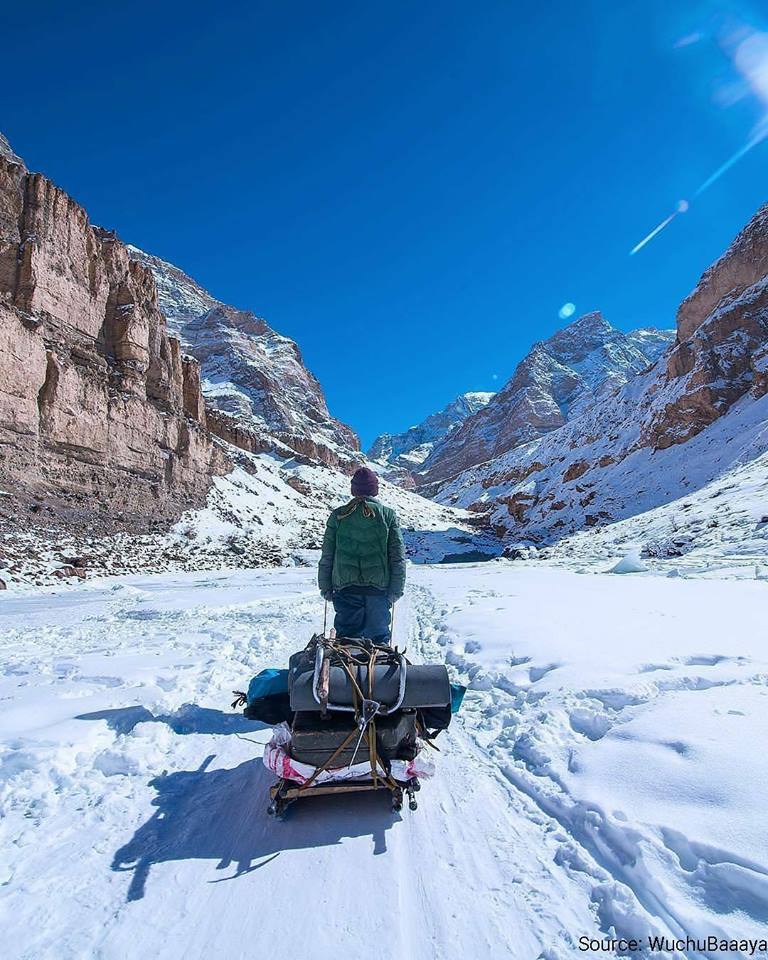 Helen Keller's comments define the adventure of every trekker who dares to walk on the frozen Zanskar River in the Jammu and Kashmir area of Leh. The challenge of walking the 105-kilometer trip on the frozen river, popularly known as the Chadar Trek, is so great that no other adventure in India would ever be able to match it. Before embarking on this adventure, one must be physically and mentally prepared, and Sateesh Somashekar, a Bangalore-based programmer, was one of the few who believed he could pull it off.
Sateesh is a marathon runner and fitness enthusiast who is well into his forties. The delight of walking on a blanket of ice alongside the river's chilly and tranquil waters encouraged him to go on this adventure. He booked his Chadar Trek with Thrillophilia in January, and was looking forward to creating lifelong experiences! He set out to hike the Chadar section between Chilling and Nerak, which he completed in under a week.
Walking Towards "The Walk"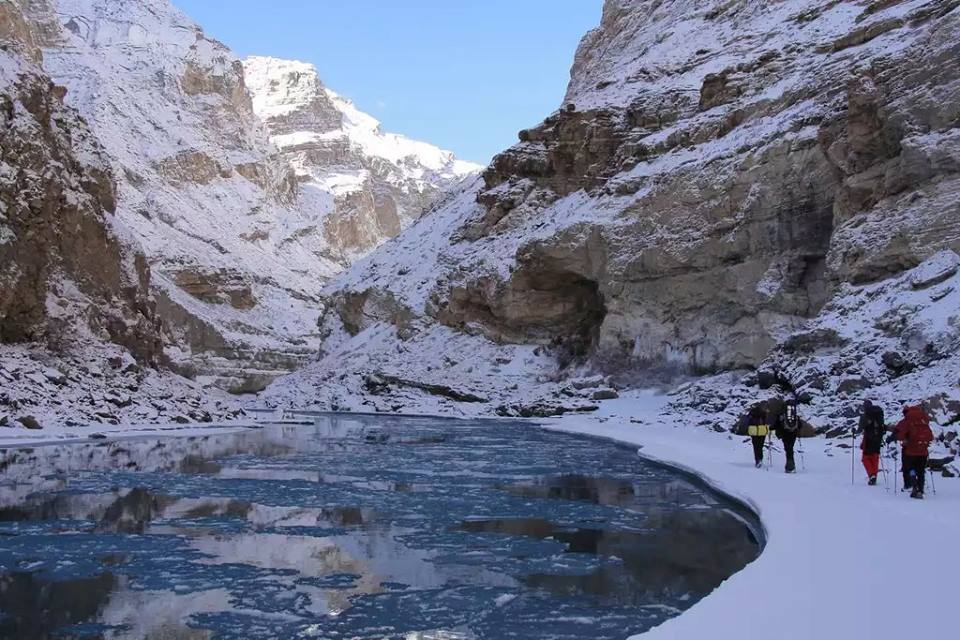 Sateesh had a restless night the night before leaving for Leh. The first glimpse of the snow-covered mountains he saw while flying above Leh quickly soothed his aching, burning eyes. He knew that the rest of the week would be a visual feast full of never-before-seen scenes.
Sateesh was overjoyed when he found Nimo, a place where the gorgeous confluence of the Zanskar and Indus rivers attracts visitors. It was only a matter of time before he embarked on his journey. On his first day in Leh, he met his ten fellow hikers and excitedly planned their expedition.
Also Read: Basu's Family Trip to Kerala with Thrillophilia!
After shopping for Chadar supplies in Leh, it was time to call it a day in order to get pumped up the next morning and begin the walk in very cold temperatures!
The trekkers began their journey towards Chilling, where the trip begins on the big day. One of the highlights of that tour was passing via the famed Magnetic Hill. They stopped at Nimo for lunch and took photos of the Zanskar-Indus River confluence. Sateesh sensed the feeling of being on the calmest land on earth as villagers hummed Ladakhi melodies all the way.
The White Walk-er?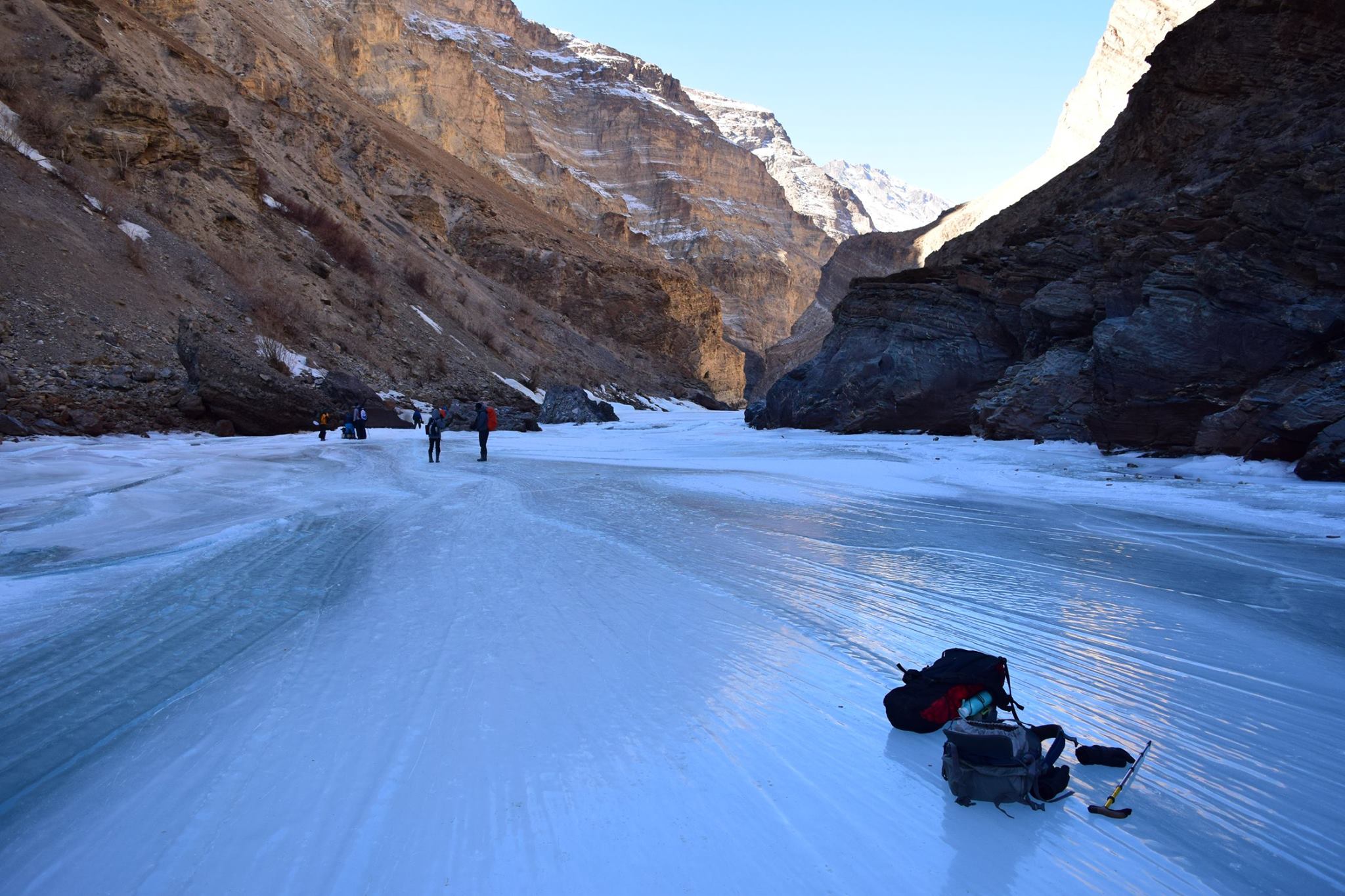 Sateesh observed many fellow hikers kissing the white surface when they arrived in Chilling, but he was too astonished by the utopia to react. He had vowed not to trip before arriving at Tilad Do, where he was due to pick up his trekking gumboots. He liked the 2-kilometer trip and took numerous photographs en route to Tilad Do, where the trekkers would spend the night.
Zanskar's nights are bone-chilling, with temperatures as low as minus 35°F. Camping in severe weather while surrounded by a billion stars is an unrivaled thrill, and Sateesh relished every moment of it. He woke up the next morning to hot tea and breakfast beside the frigid Chadar. The actual Chadar begins today as they go to Gyalpo and Tsomo Paldar, a distance of 12 kilometres. By now, Sateesh had mastered the penguin walk. He also saw the world's first frozen waterfall, which was breathtaking!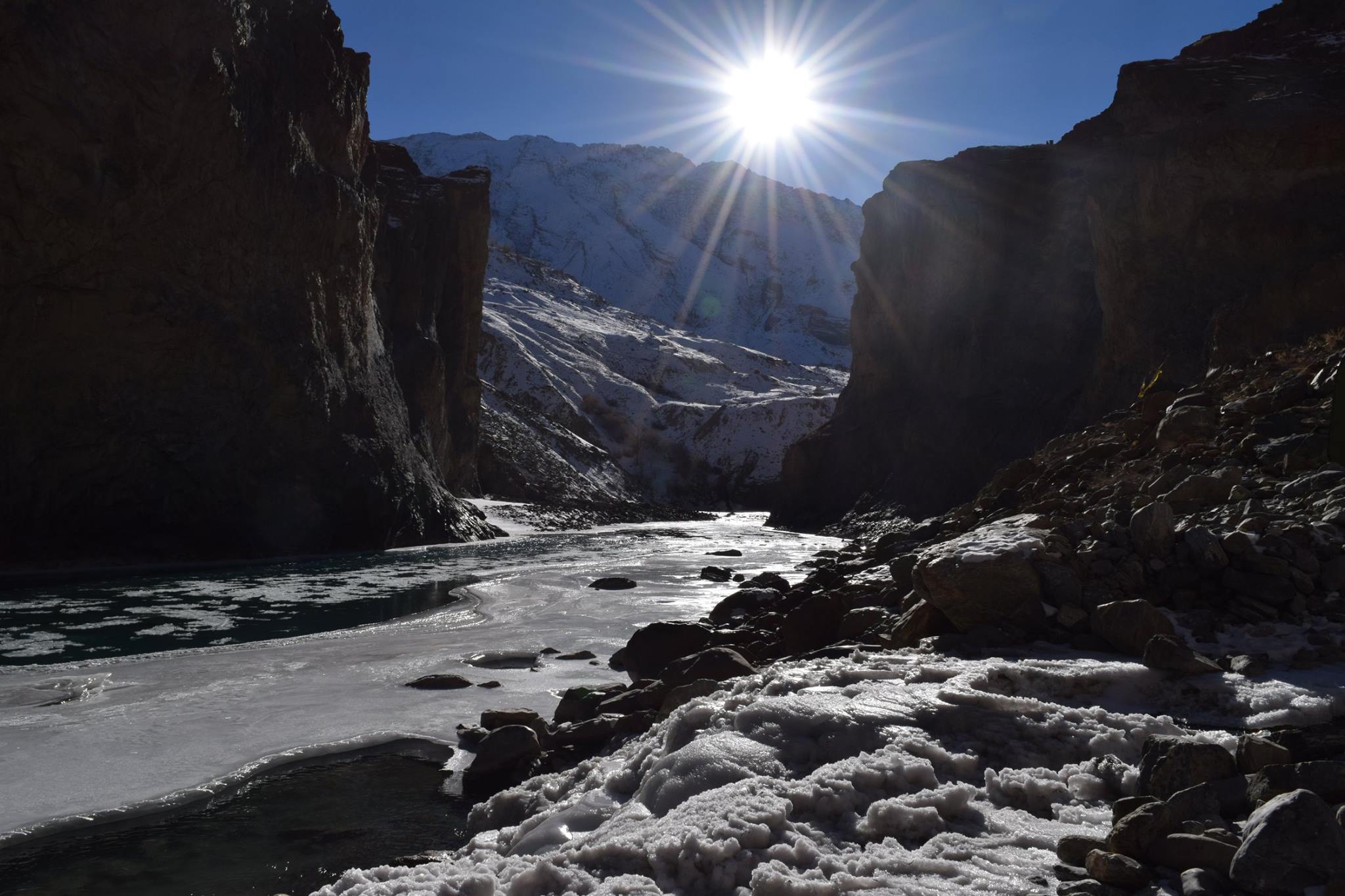 Sateesh was so taken with the beauty of the scene that he didn't realize one of his legs had breached the thin ice layer and was sinking into the rushing icy waters of the river below. While the frost felt like a thousand pins, he managed to recover and arrive at Gyalpo by 4 p.m. Sateesh also enjoyed capturing the night sky while camping next to the frozen river.
The morning sun shone brightly on the dead-white snow, creating a stunning spectacle! They were on their way to Tibb Caves, trudging through patches of patchy ice. It was one of the most dangerous sections since the ice was flooded, making landing difficult and unpredictable. They arrived at the caves at 4 p.m. and spent the evening playing cards and sharing life experiences in the campgrounds.
An Unmissable View Of People Missing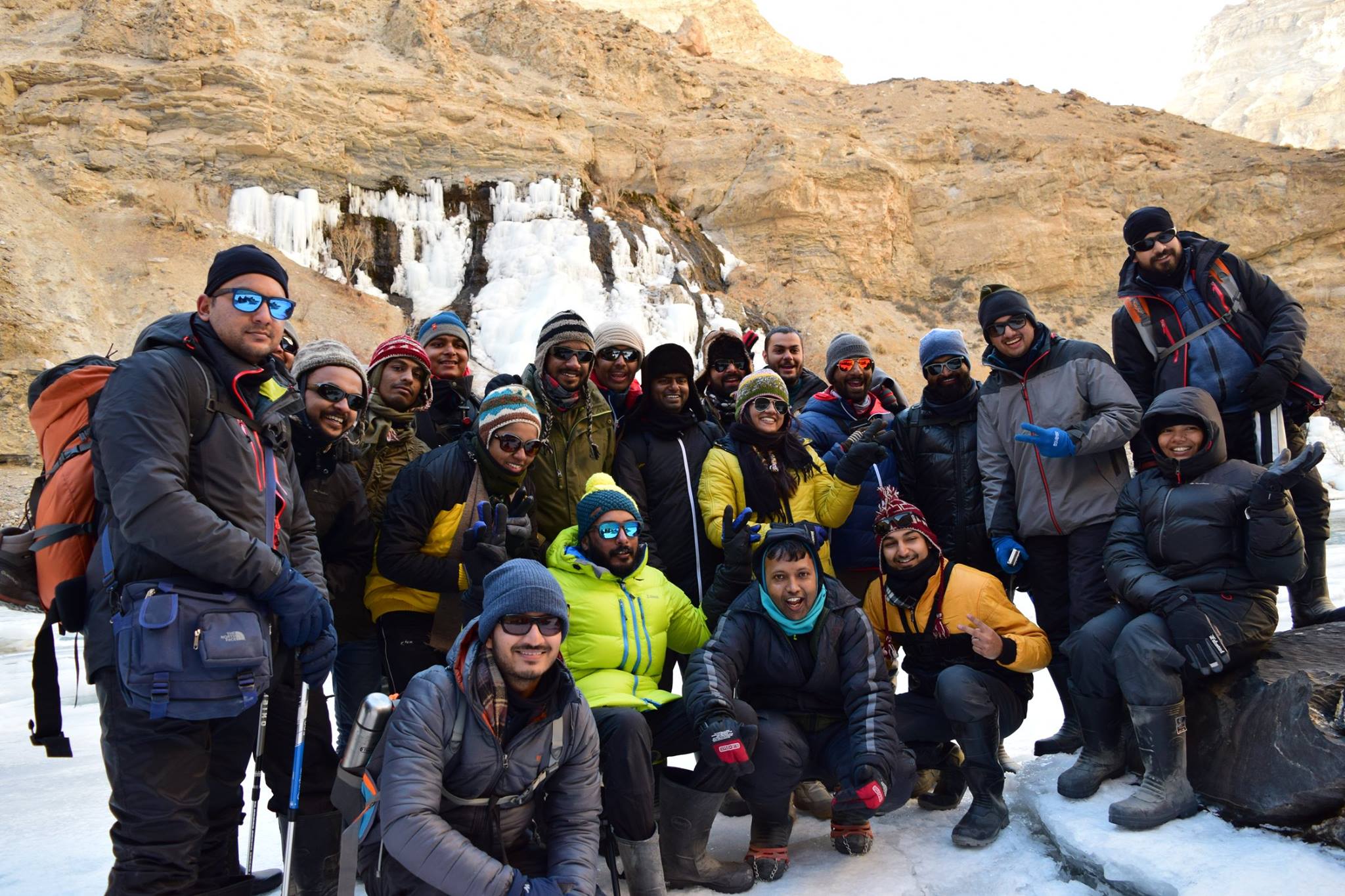 They had to go to Nerak the following morning. Sateesh, on the other hand, decided to travel beyond Nerak, to Lingshed, and then return. The 22-kilometer journey was challenging, but he and his guide headed out at 6:30 a.m. to do it.
According to Sateesh, Chadar is particularly picturesque in the early morning when there are few trekkers on the trail. What could be more relaxing than wandering down a frozen river with no one else around and feeling at one with nature? Doesn't it sound peaceful?
Suggested Read: Happy Baliversary To Chandresh With Thrillophilia!
Nerak welcomed them with the most gorgeous blue waterfall Sateesh had ever seen! They chose to march towards Lingshed after spending some time investigating the area. The area between Nerak and Lingshed had it all: waterfalls, ice tunnels, and snow-leopard footprints that sent shivers down their spines!
A detour to Lingshed assured them that they would have to walk on land rather than ice, which was a welcome reprieve. Lingshed greeted them with yet another magnificent waterfall and vibrantly coloured walls. Sateesh had been enchanted sufficiently by the journey by this point.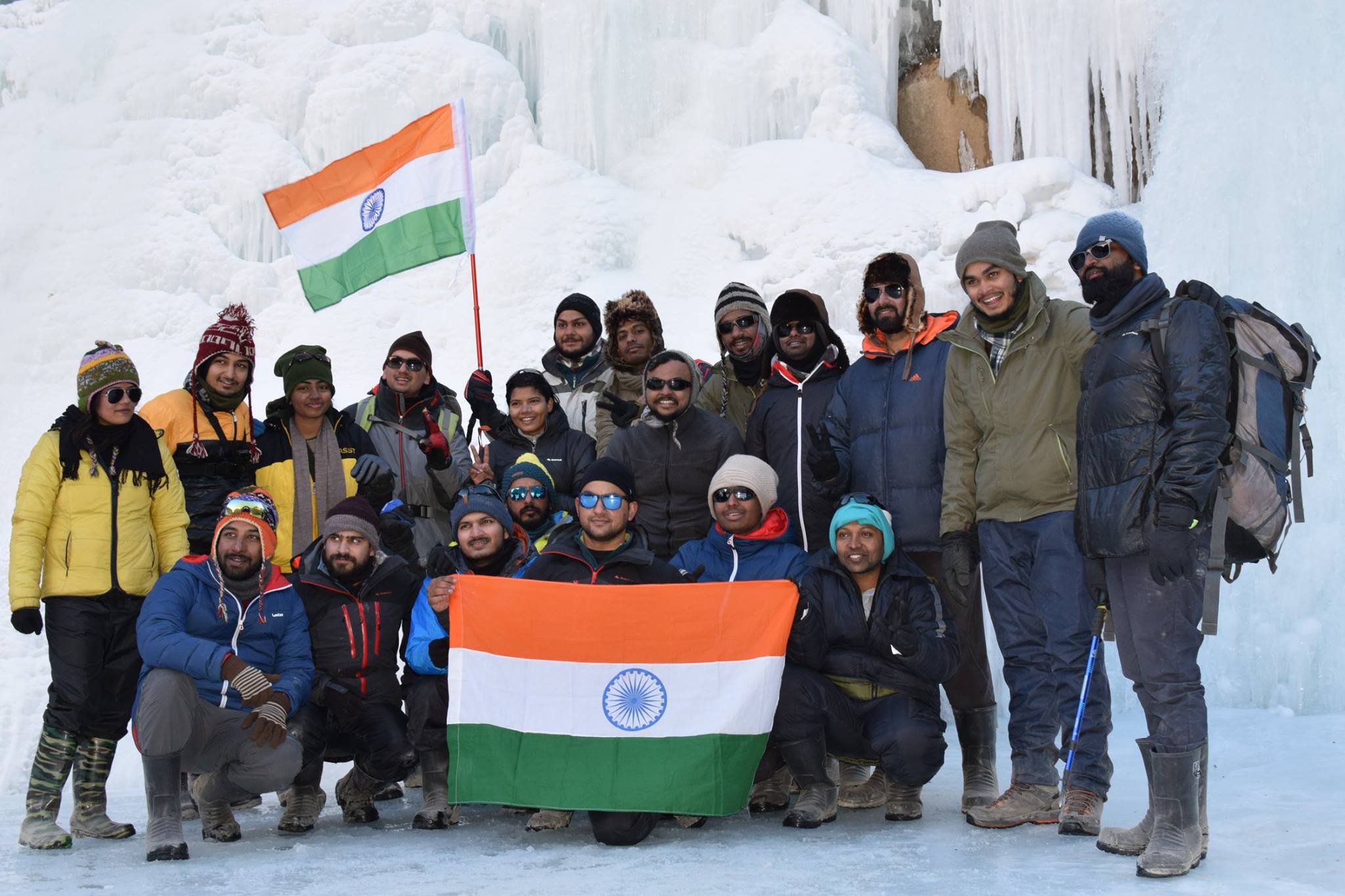 The day came to a close after a 22-kilometer hike in which Sateesh had seen it all. It snowed that night, completely transforming the environment as they emerged from their tent the next morning. They had to hike 22 kilometres to Nerak the next day, but they made it. They returned to tell other trekkers about Lingshed before finally falling off due to exhaustion.
On the sixth day, he started out for Shingra Koma, a 15-kilometer trek to see Zanskar's "U" curve. The trekkers had gelled nicely and enjoyed a bonfire by which they shared a good laugh.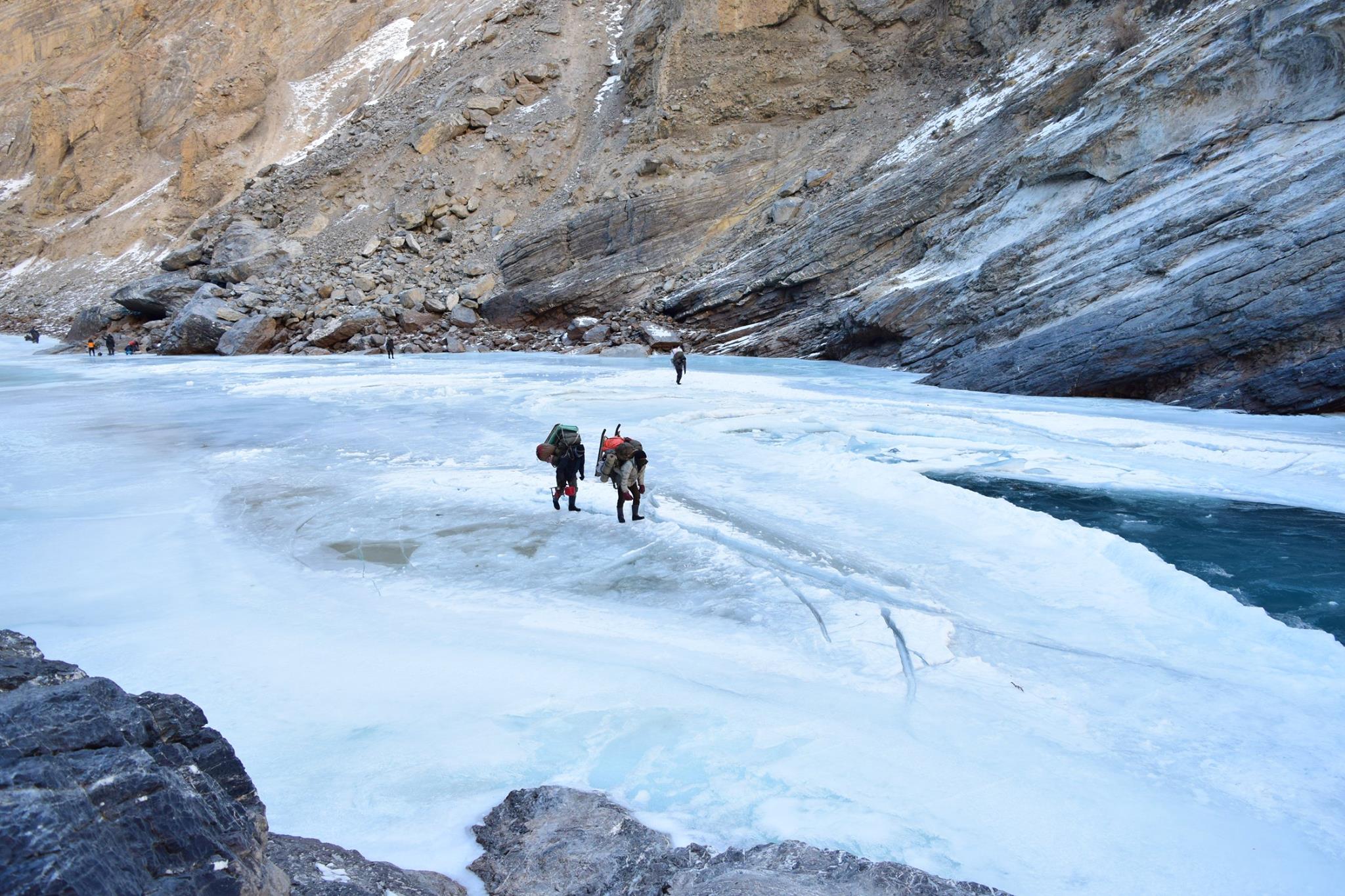 The next morning was the most exciting since they were going to dive into the extremely cold water at Tilad Do. The stinging water seemed like a million pins piercing the body, yet it was a memorable experience!
Sateesh was beginning to feel nostalgic and wished to relive those memories. While the sights impressed him, Sateesh's time spent with fellow hikers has become an inextricable aspect of his journey.