Women Group in Valleys of Ladakh with Thrillophilia!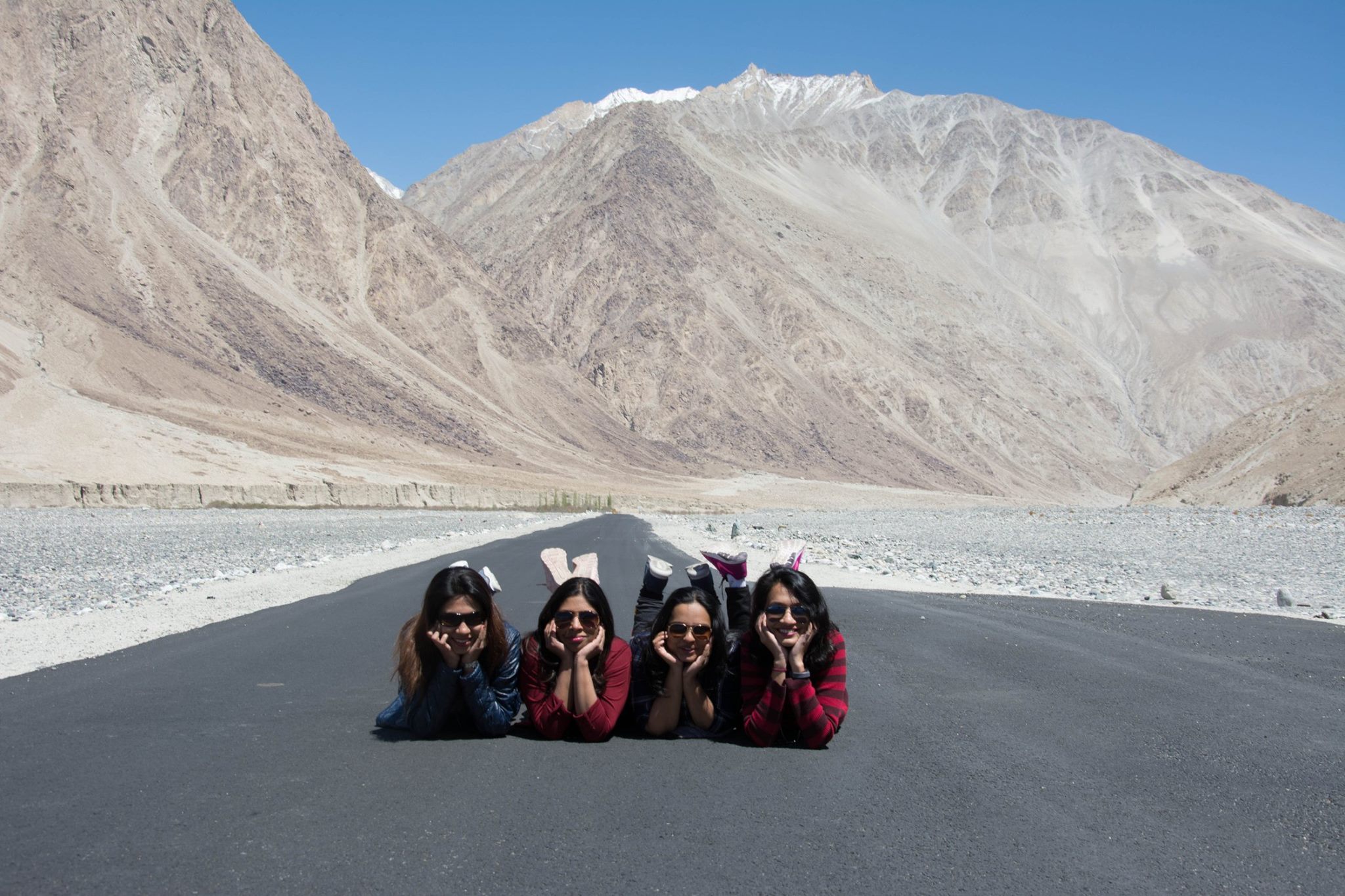 While many people believe that travelling alone is wonderful, no one can deny the indescribable delight that comes from travelling with one's closest friends. True, a journey should be measured by the people you meet along the way, not the miles you travel.
Meet the woman behind this story – Rosme M Mathew
It was Rosme's childhood desire to visit a few of the picture-perfect drawings she sketched as a child, and now she has fulfilled her wish. North-East India is on her bucket list, and she believes it would go a long way towards helping people to better understand our country's diversity.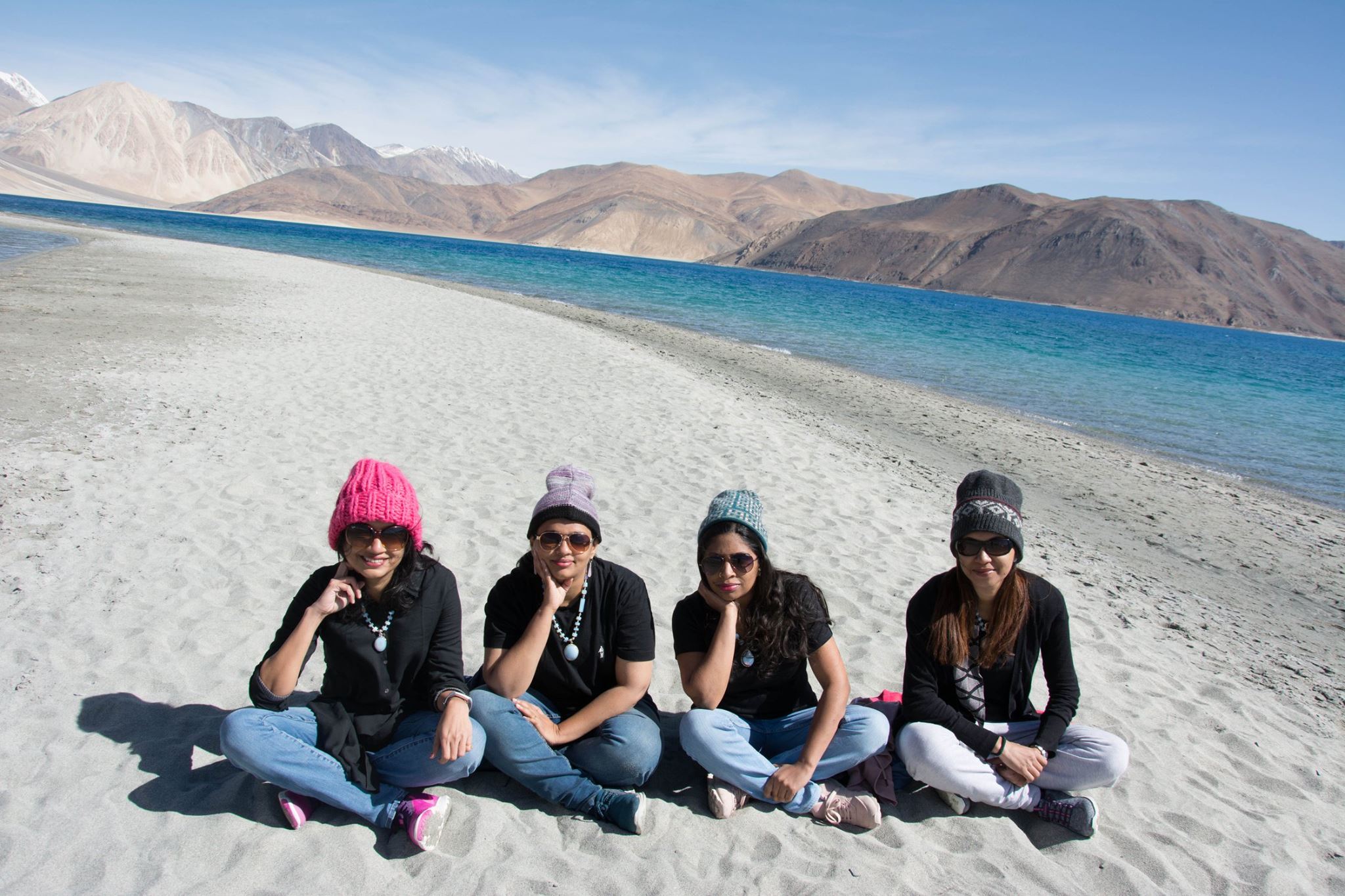 We asked her to describe her travelling buddies in the post-trip dialogue exchange with her. When she saw the women, she immediately thought about them as "Crazy, beautiful, and energetic individuals, someone who wanted to forget the work, family, and household chores for a few days. They just wanted to be kids who look forward to seeing the world for a few days."
How Did the All Women Plan Come into Existence ?
Years ago, Rosme began her journey to Ladakh, a trip she wished to take with her female companions. Exactly how did this happen?
It had been Rosme's dream for a long time to take the girls on a road trip. She decided on Leh-Ladakh as the best and most reliable option. There are other websites that provide the Ladakh sightseeing and driving trip; after doing extensive research into the various options, she decided to go with Thrillophilia's 'Leh Sightseeing Tour with Stay at Pangong'.
Exploring the Beauty of Leh
When they arrived at the Kushok Bakula Rimpochee Airport in Leh, they were awestruck. They saw the Ladakh landscapes for the first time, and promptly looked at each other with broad smiles on their faces, even though it was only 12 degrees Celsius outside. After the group had breathed in the fresh Ladakhi air, they were greeted by their tour guides and taken to their hotel rooms.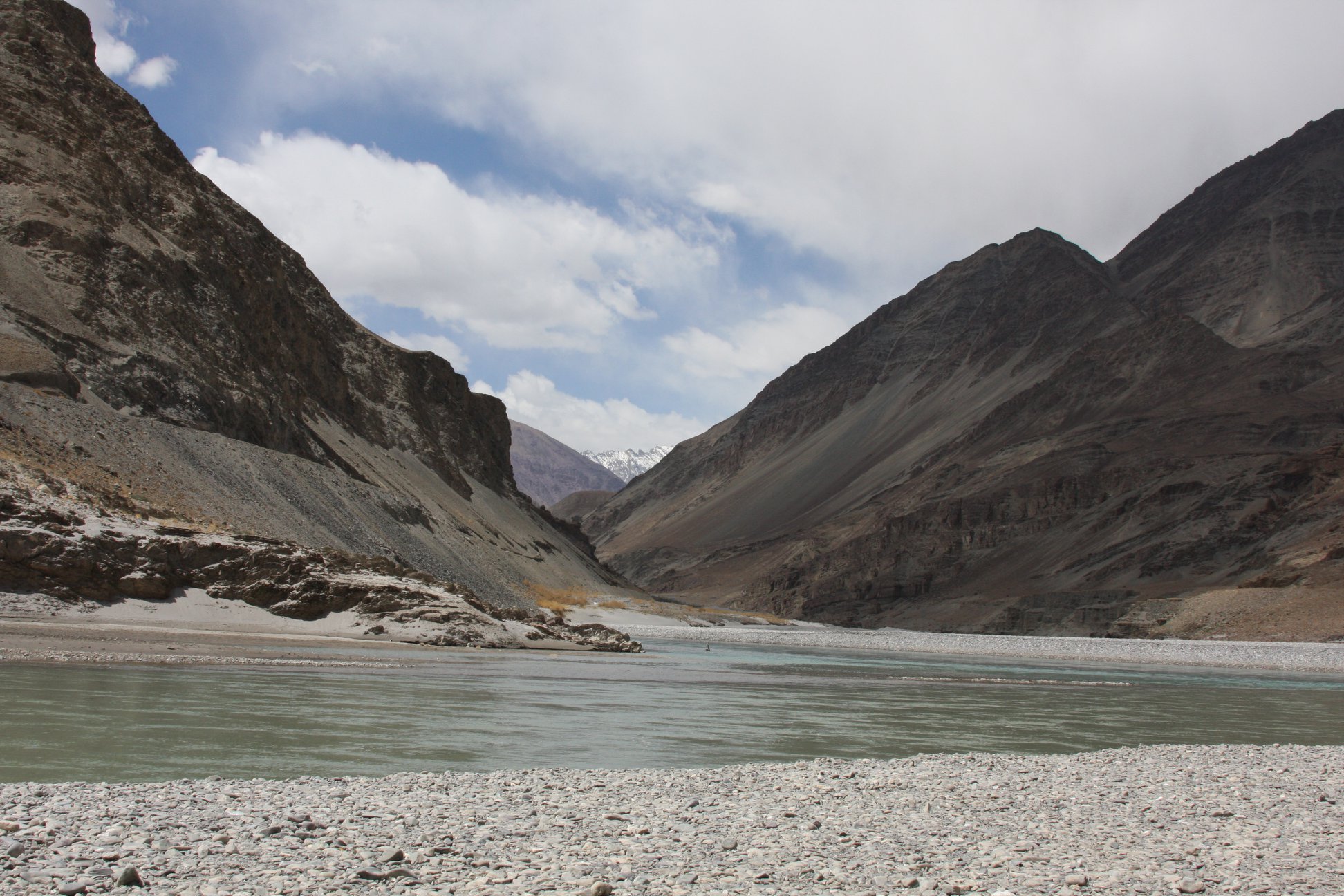 They relaxed and acclimatized until nightfall; then the girls hopped around the Ladakhi markets for some shopping and found themselves infatuated with the local Tibetan jewelry. Before they waved farewell to Day 1 in Ladakh, they were served a sumptuous buffet meal at the hotel.
Visiting the Magnetic Hill, the confluence of the Zanskar and the Indus rivers, the Gurudwara Pathar Sahib, the Spituk Gompa, the Shanti Stupa, the Leh Palace, and the Hall of Fame were all on the agenda for Day 2. This is a day to get to know the Ladakhi culture and the symbolic air of Ladakh.
The Double-Humped Camel Ride in Nubra
The women set off for Nubra at 8:30 a.m. on the third day of their trek. The world's highest motorable road, Khardung La, was warned not to be overdone with time spent on it. Wind was cold and oxygen levels were quite low at an altitude of 18,380 feet. After a quick photo-shoot, the women set off on their 86-kilometer adventure to Nubra Valley.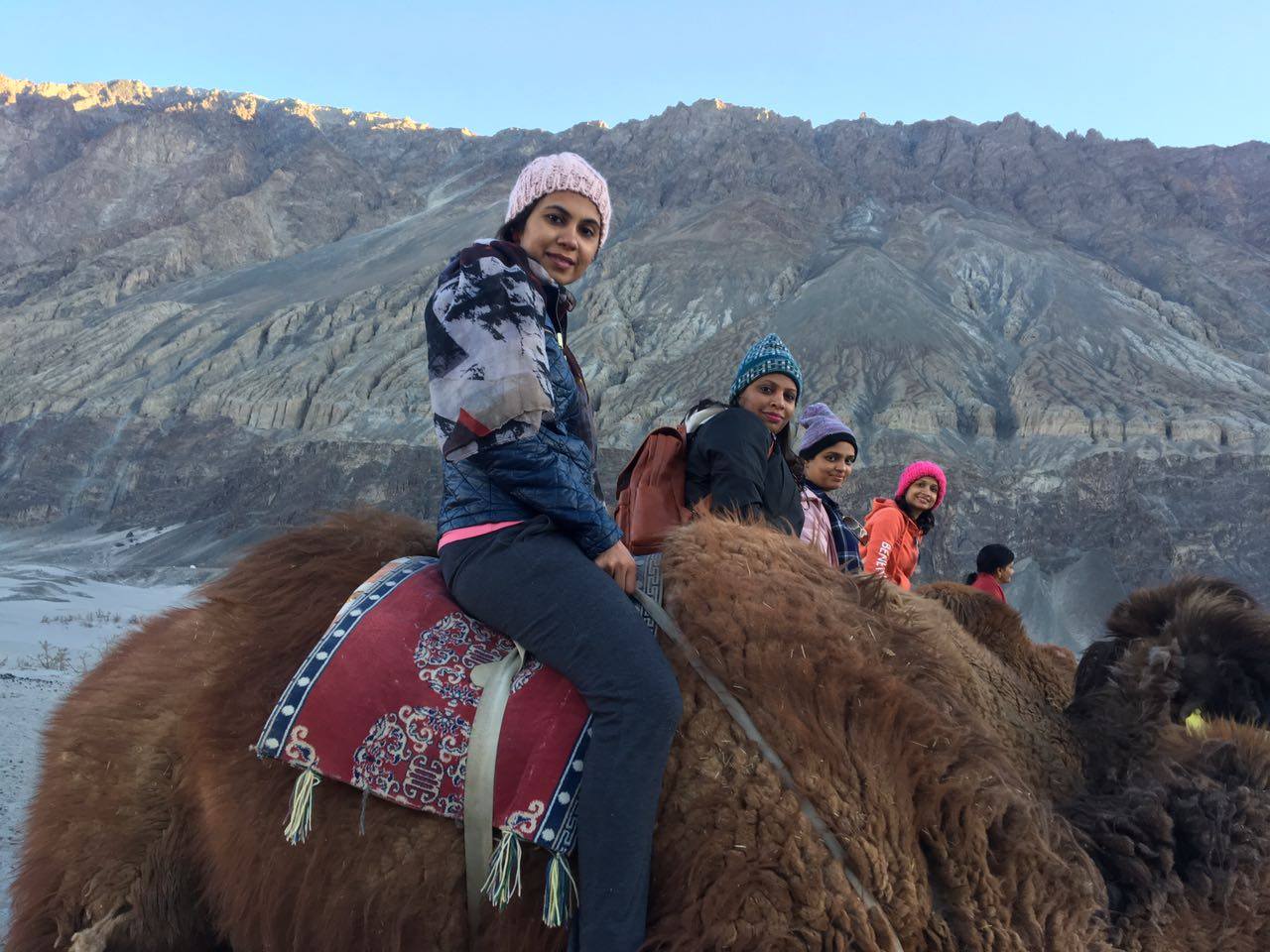 Nubra Valley's white sands were walked on by the women at around 2:30 p.m. "The thin air, beautiful scenery, and peaceful white tents offered me unimaginable joy," said Rosme. In the afternoon, they rode these magnificent double-humped camels across the dunes, where they relaxed, played, and rested all day.
While on their tour, Rosme says this was the funniest moment. This is what she says: "It felt like we were at the camels' command. The camels didn't listen to what their controllers had to say. In its own way, it was an adventure!"
Exploring the region near India-Pakistan LOC
The women had been anticipating the next day since the first day of the trip. A small village called Turtuk was the Indian Army's softest victory in the 1971 war with Pakistan. They woke up early, ate their breakfast, and set out for Turtuk, which is dotted with apricot, walnut, cherry, and apple trees, and the locals there are kind and eager to accommodate visitors.
Turtuk is a charming Ladakhi village where the ladies had a wonderful time getting to know the residents. Rosme admitted to actually bribing the village children with chocolates and toys, who allowed them to explore the entire settlement as a result of this.
The Final Experience at Pangong Tso Lake
Finally, a cottage stay near Pangong Tso Lake was arranged for the final portion of the journey. It was not an easy trip from Nubra to Pangong Tso, as Rosme recalls. "Some sections of the road were completely removed. Nonetheless, the effort was well worth it." As soon as they arrived in Pangong Tso at 4 PM, their hearts began to pound! In the distance, the snow-covered mountains of Pangong Tso could be seen against a foreground of azure sky and blue lake.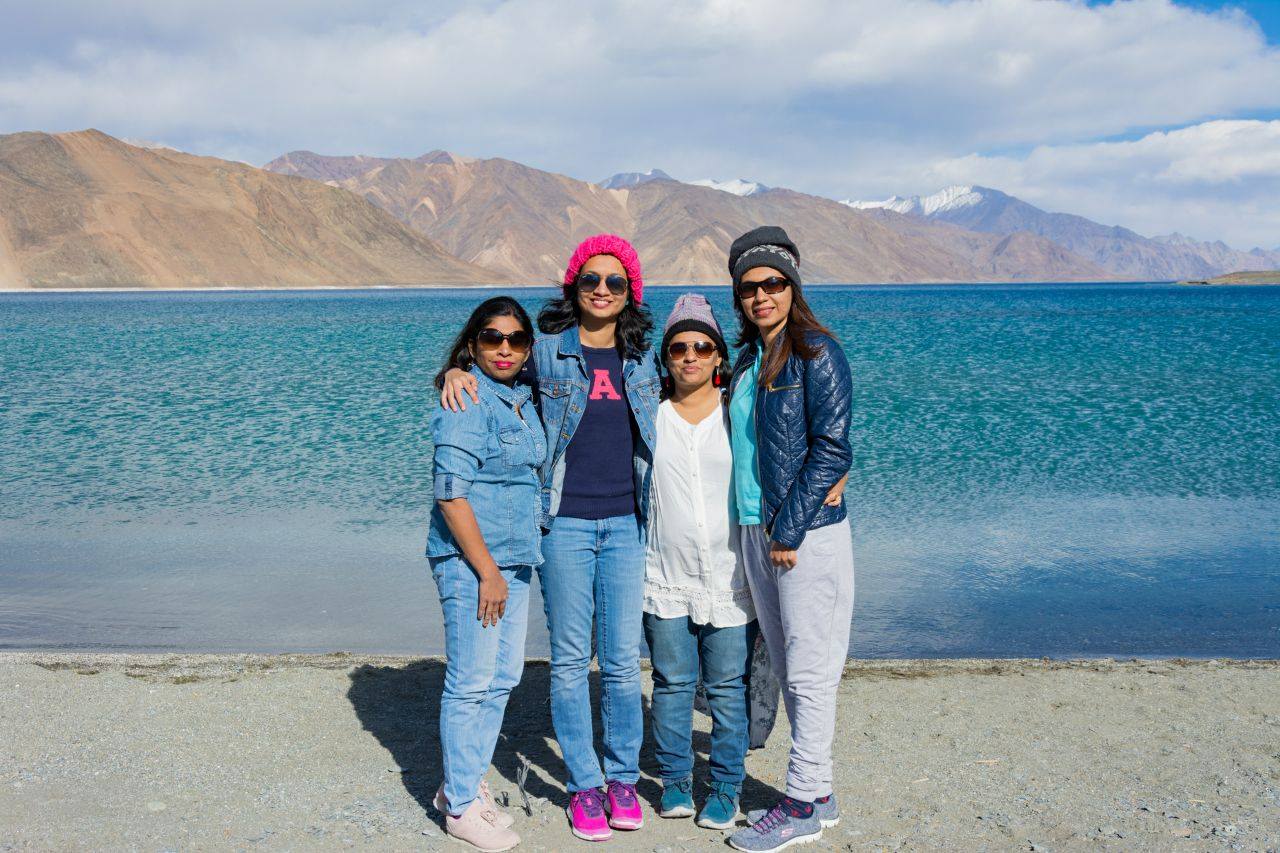 The company returned to Leh after spending the night at the Pangong Tso wooden bungalows. They also bought Pashmina scarves, Tibetan jewelry, Kashmiri Kahwa tea-boxes, and dry fruits from the domestic Leh markets in addition to the innumerable images they had snapped there.
Their all-women tour was a success, so they're now looking forward to their next adventure! In a single sentence, Rosme sets the tone for the rest of their voyage.
"Snow-capped mountains, crystal clean rivers and lakes, and a brilliant blue sky – Ladakh is like a fallen piece of Heaven on Earth."
Tips to plan Your Own All-Women Trip to Ladakh
In the end, Leh's beauty is unrivalled. Rosme aims to increase the number of female travellers to Leh-Ladakh, which has a wide range of tour options. She has compiled a handy list of things to keep in mind. You'll find them listed below:
Put on several layers of clothing and pack warm clothing.
In Leh, only Airtel and BSNL postpaid lines function, and in Nubra only BSNL.
To get your body acclimated to the high elevations and low oxygen levels, first visit the places around Leh.
Prevent mountain sickness by drinking a lot of water.
When you're on the road, keep some Wet wipes nearby.
Consider booking a room on the ground floor of hotels that don't have lifts.
No need to haste, just take your time!
Some stores do not accept credit or debit cards, so bring some cash with you.
At Pangong Tso, a wooden hut is preferable to a tent for your comfort.
Finally, don't forget to bring a basic first aid kit.
Also Read: Puneet Bagri's Adventurous Journey To Ladakh with Thrillophilia