Siddharth's Thrilling Chadar Trek Adventure With Thrillophilia!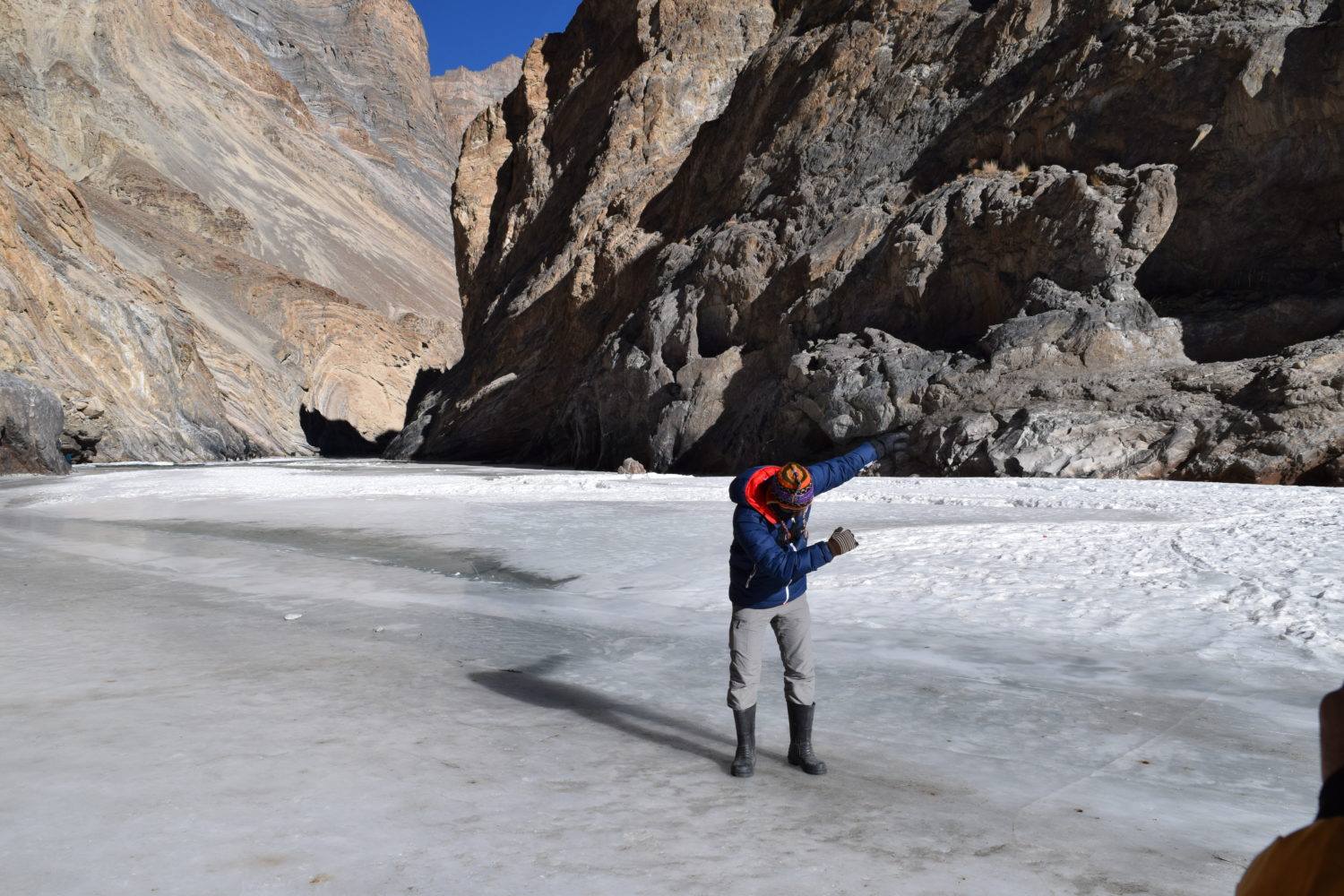 The insane Travelogue of Siddharth V Menon on Chadar's Iced River Trail!
"We look forward to the next adventure beneath the stars." Jack Kerouac
The Chadar trek was a major undertaking for two 27-year-old males who had never been in snow. "The team members recorded the number of times they slipped on the ice, and I ranked first."
Here is a story by Siddharth about Chadar trek, the man who leapt into the bone-freezing water of Ladakh's Zanskar river on the spur of the moment, as his blood pumped from the adrenaline. The Zanskar River looks like a blue-coloured, extremely cold body of water that runs along, between and through the region's frozen half; that is what the Zanskar looks like.
As a freelance banker, Siddharth V Menon funds his travels with the money he makes from his work. A basic tee and a pair of jeans were all he had on when he arrived in Ladakh. That's right.
Also Read: Raghunandan Exploring The Natural Beauty Of Meghalaya With Thrillophilia!
Meet Siddharth, who emerged from the plane wearing just a t-shirt and jeans (a terrible idea, if you ask us), because that's what he wears on a daily basis. He likes to describe himself as an amateur, adventurous traveling soul who tries to soak up all the local culture everywhere he goes; also a striving GoPro photographer as he describes himself!
We are confident that Siddharth will reach the milestones on his bucket list at a fast rate since the choices he made (which we will discuss in the following section) are unique.
Bravo, Siddharth!
Chadar Trek Planning - It's The Thing!
It all began behind Siddharth's four glass walls of his office. A year ago, when he started feeling the urge to escape the glass walls behind and experience the open skies, he began exploring his options and did some research and came up with the idea of a trek along the iced river of Chadar.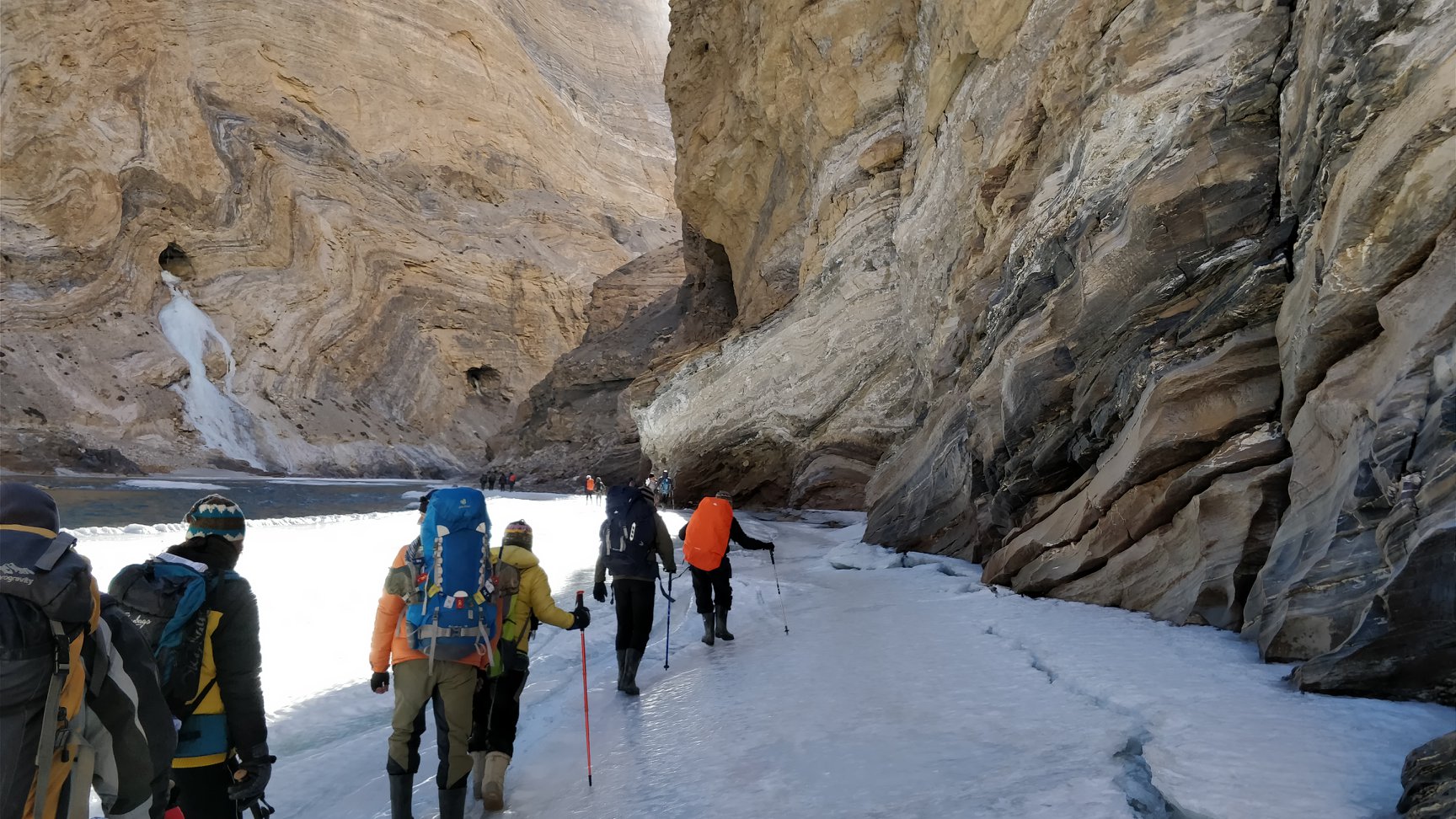 Despite having difficulty booking the slots, Siddharth managed to arrange them without too much hassle. In no time at all, the man had made the initial payment and the seats were reserved, as he was already familiar with Thrillophilia, through a friend who worked there. It was now time for Chadar!
A Group Of Crazy Adventurers!
A pile of reckless trekking enthusiasts allowed to run wild among Nature's most beautiful untouched creations reached new heights of crazy when they were allowed to trek through the wilderness.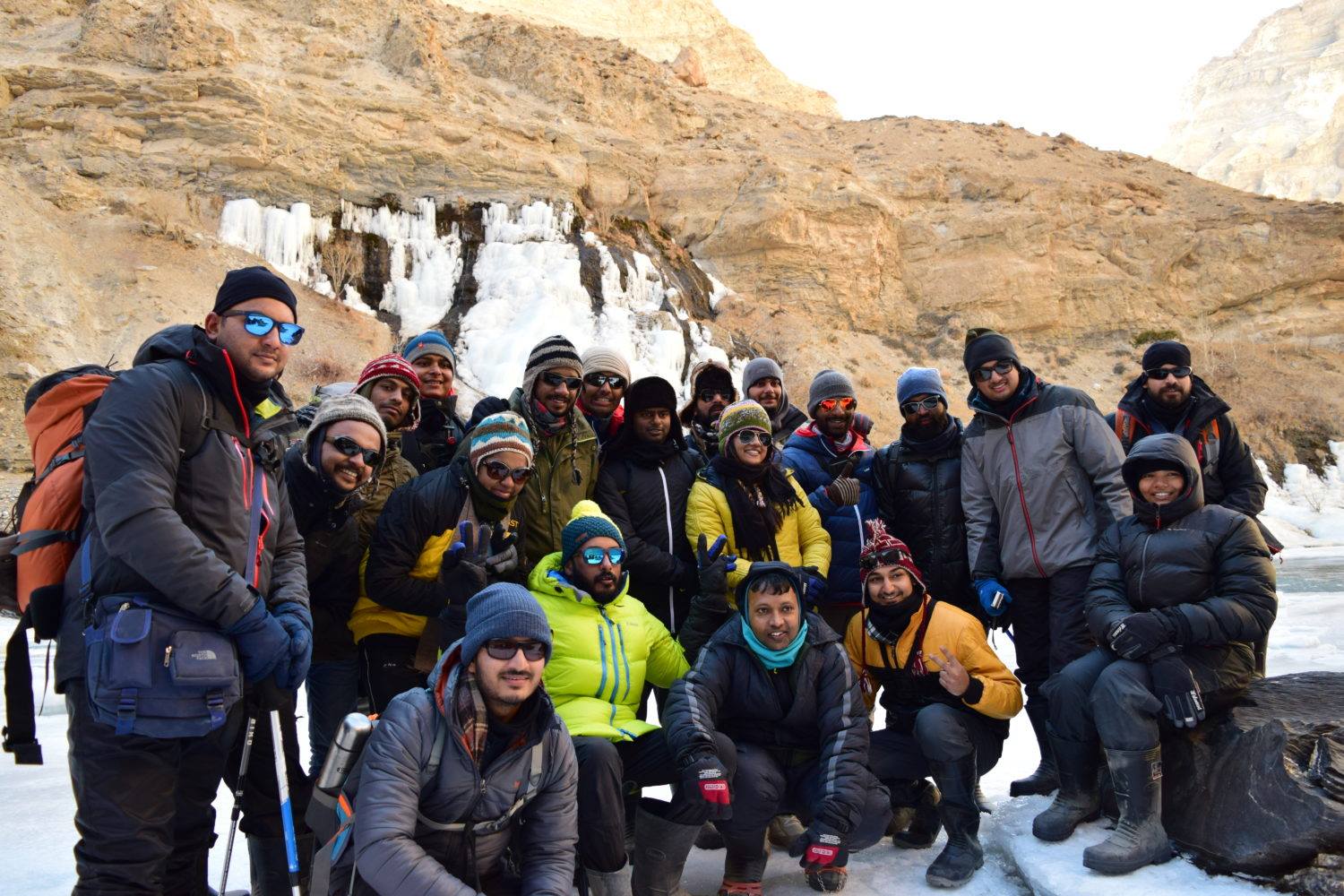 Certainly, Siddharth's batch included trekkers from all walks of life and all stages of life, as did the rest of the trekkers in his group. It was a group of storytellers in the White Land, as Siddharth recalls in his post-trip discourse. He says that they remain part of his life today and that he retains affectionate memories of them.
According to Siddharth, when asked how he would describe his fellow trekkers, he replied, "I believe each one of them is a storyteller with stories to share, and inspiration and ideas to impart."
Itinerary For The Ultimate Act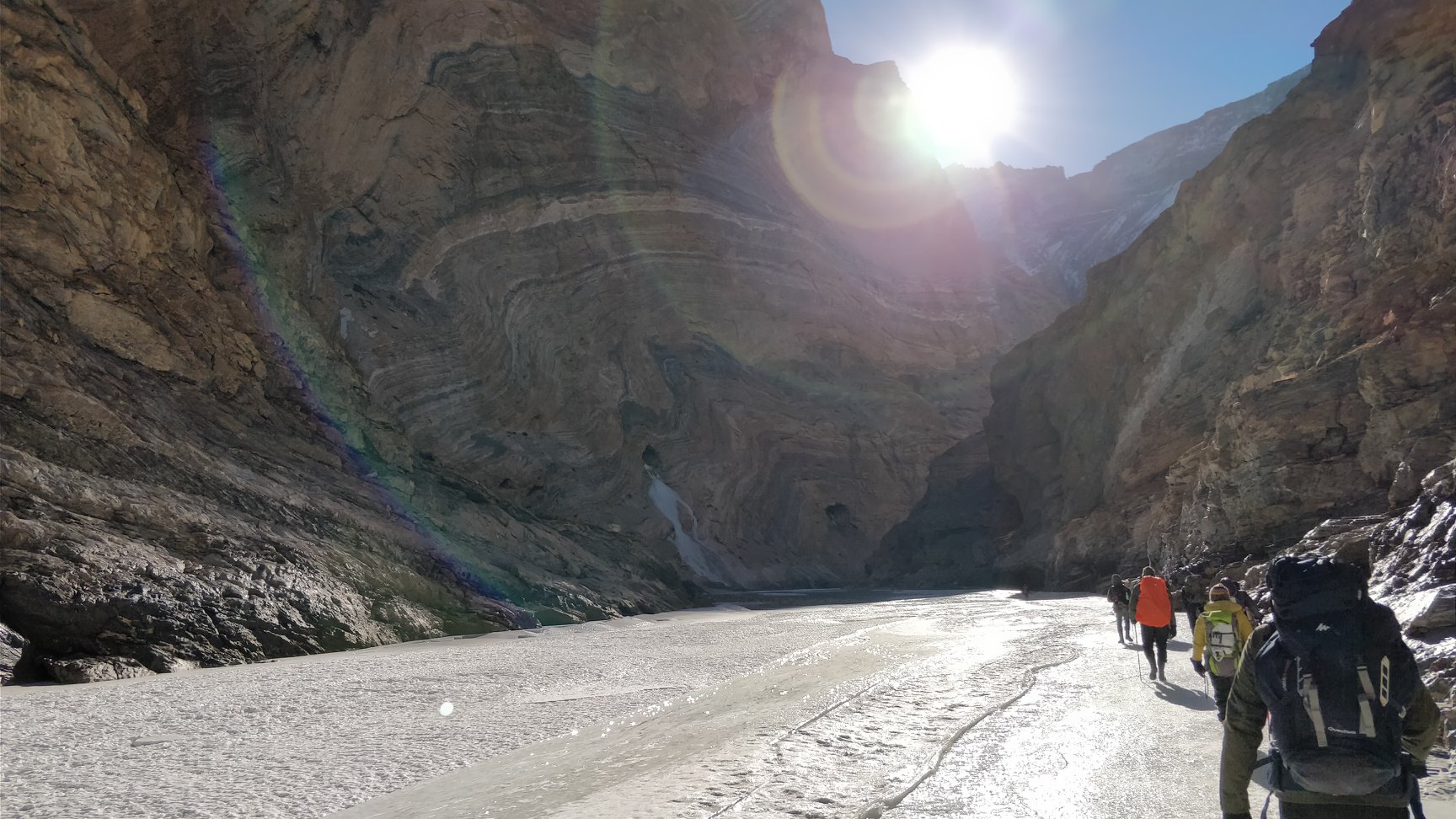 The 18th of January, 2018, was the beginning of Siddharth's 8 Nights and 9 Days journey, starting from Leh early in the morning, wearing casual clothes consisting of jeans and a tee. When the shivering fingers of his worried hands reached into his suitcase to find winter clothing, he was struck by waves of frosty air.
When the pair arrived in Leh, they checked into their comfortable hotels, dropped their luggage, rested for a short while, and then set out to explore the city. In keeping with his travellers spirit, curious minds are required to discover, observe, and experience the places they are visiting.
Those who are considering Chadar trek should acclimatize for one day following their arrival in Leh, allowing their bodies to adapt to the freezing temperatures and high elevations. Within the next few days, they would trek through Nerak, Tilad Do, Chilling, Tibb Caves, Shingra Koma, and Gyalpo, among others.
Suggested Read: Puneet Bagri's Adventurous Journey To Ladakh with Thrillophilia!
Chadar's Wacky Days
When the trekkers got off the bus in Chilling, they felt an innocent, childish curiosity. Nature's untamed side intrigued them as they pondered the food, the water, the air, and the land. It hardly occurred to the Leh-Ladakh's frozen river and icy winds that this bunch of curious and kiddish adults would play to their heart's content with them.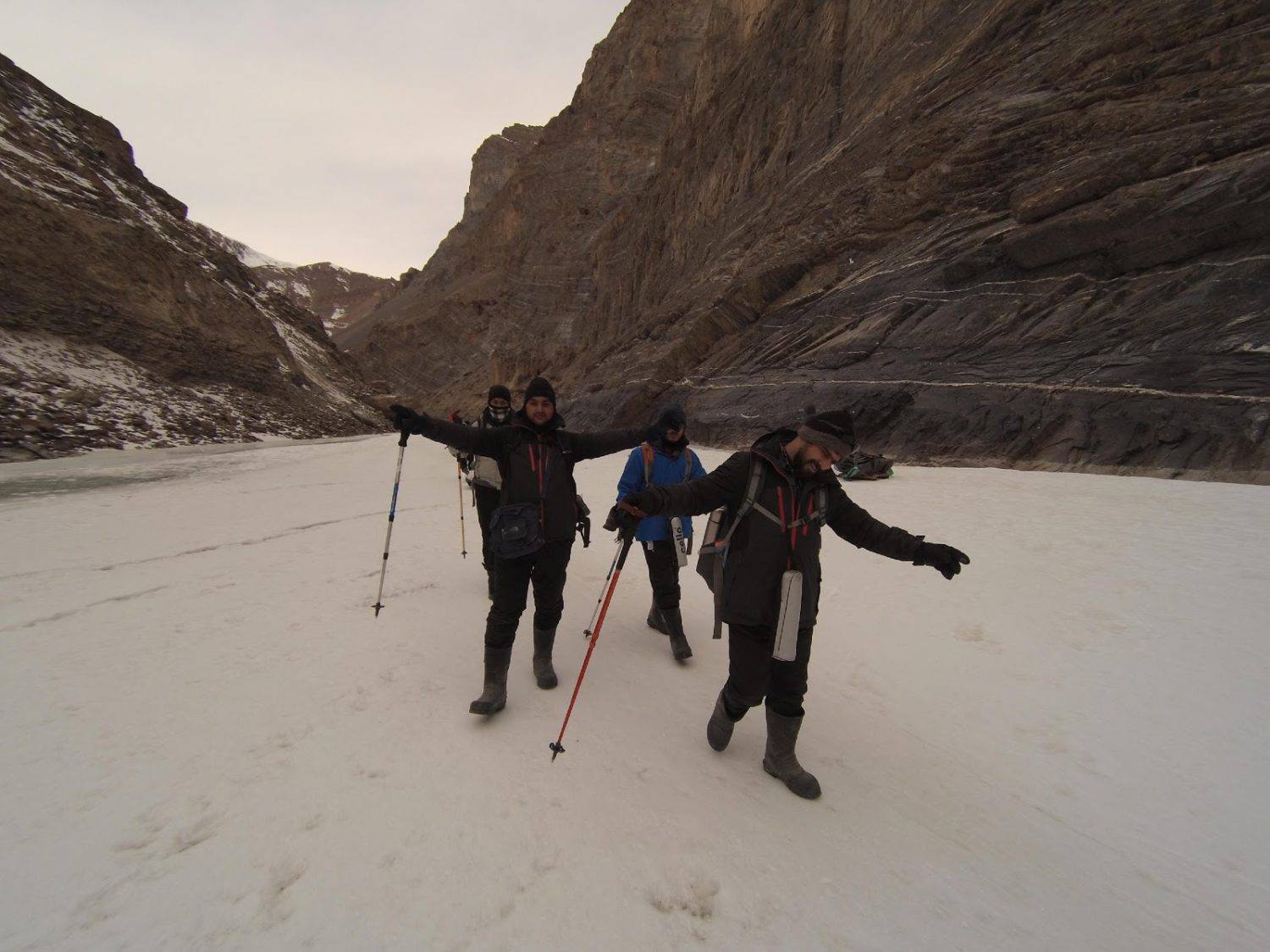 The group crossed Chilling and quickly made its way across the iced river to Tilad Do, their designated camping site. After their first step onto Chadar, the group started keeping track of how many times they had fallen. "I won, of course", Siddharth admitted, embarrassed. Strong winds at a fast pace and rapidly dropping temperatures made the first-night challenging, but the group braved it both literally and metaphorically without breaking a sweat.
"Chadar? What's up, then?" exclaimed a member of the group. In the following days, the group spent time at Tibb Caves and Gyalpo before travelling to the campsite at Nerak Waterfall, their final destination.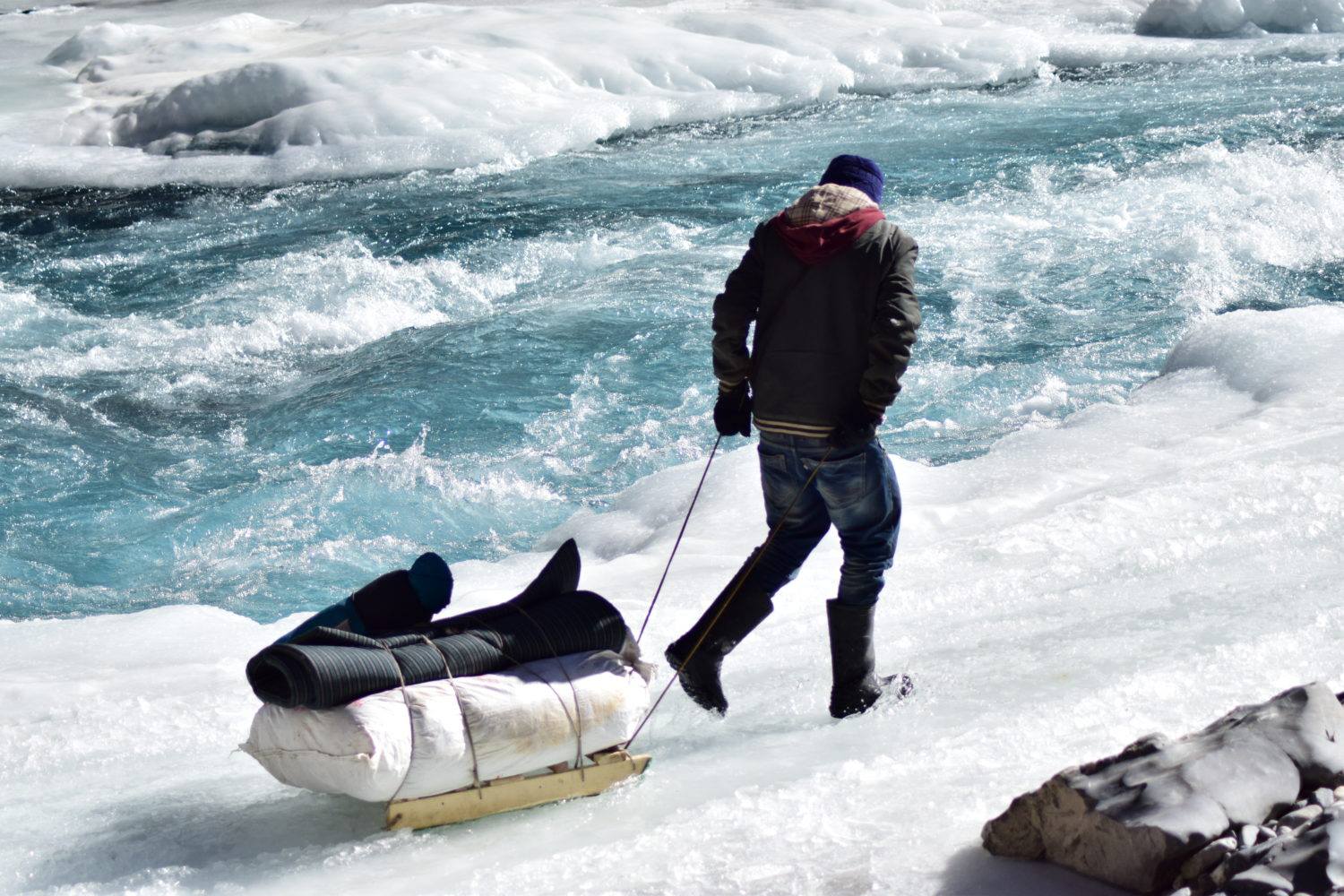 During the daytime, they trekked up to 13-15 km every day, whereas the evenings were devoted to sharing experiences, grouping up, making fun of each other about the total tumbles (apologies, Siddharth) and preparing for the insane day that would follow next. Obviously, the group would never pass up the opportunity for a photoshoot, but walking on an iced river is not something you do every day, is it
Chadar's Final Few Wacky Day!
The hardy are the ones who keep going when times are difficult. Approximately one-third of our group of crazy trekkers had made it through Tibb and were beginning to reach Nerak, the final terminal point of Chadar before they made a U-turn and returned to civilization's (in)sanity.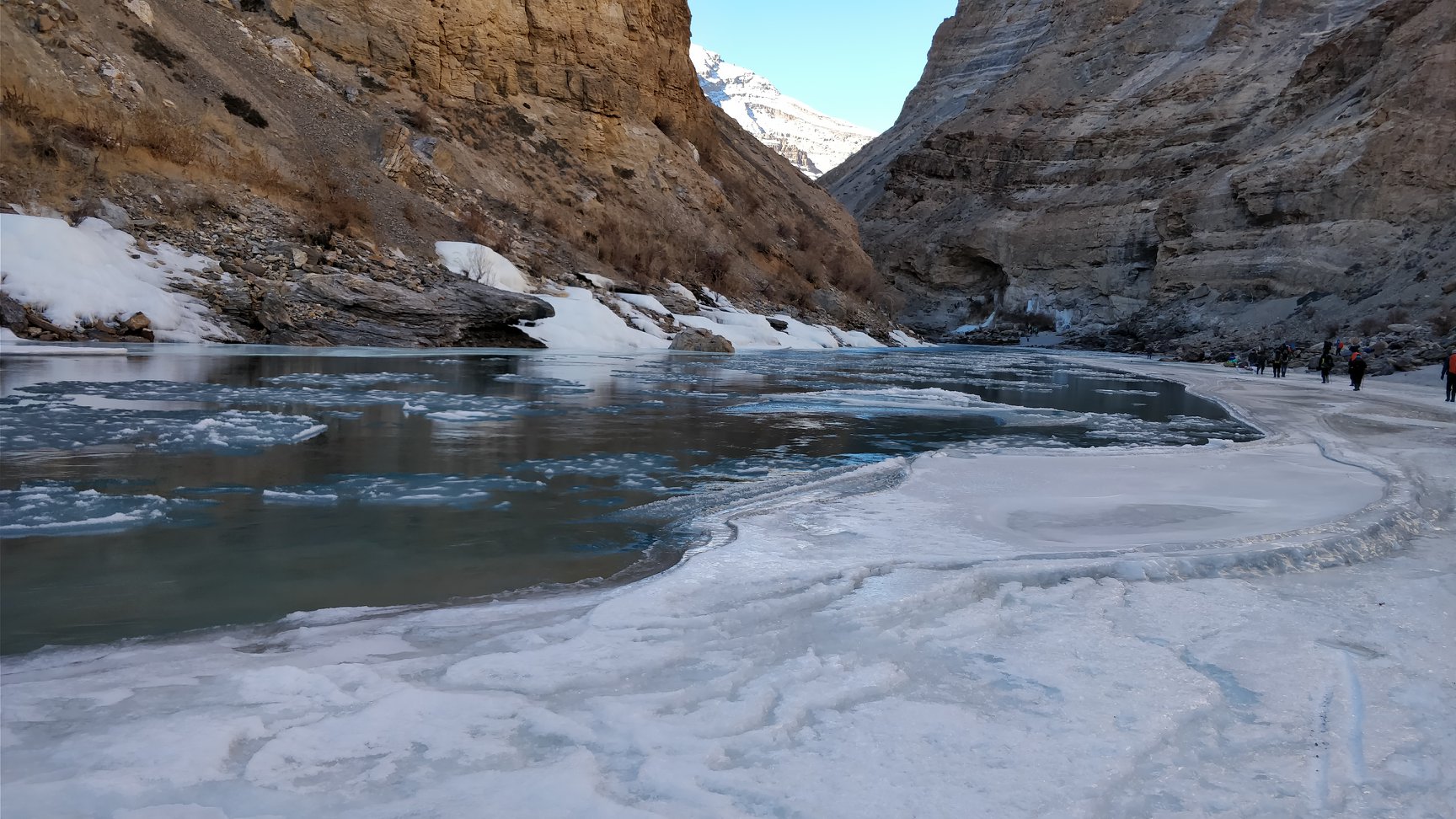 Siddharth recalls with awe in his voice, "When we reached the waterfall, this was the entire trek's highest point. Before we reached Chadar, we hiked up a steep hill..."
As the trekkers reached Nerak, the craze among them reached its height. To finally reach the last point of Chadar Trek, an iced waterfall they call Nerak, the trekkers had to endure a test of endurance, constant resistance against cold winds, freezing temperatures, and a frozen river.
One last picture was taken at Nerak Waterfalls before the group called it a day on one of their wildest trips till date.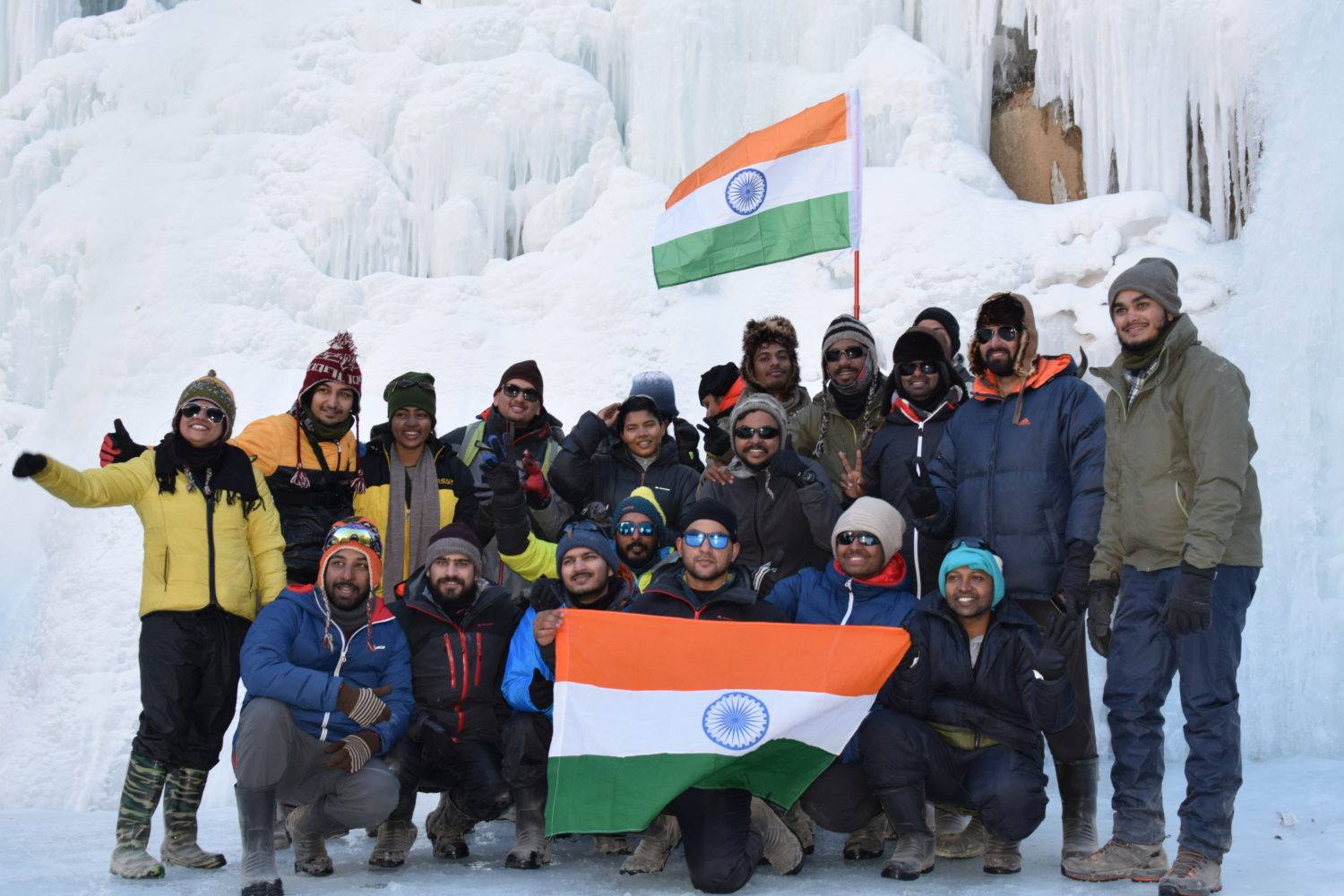 Chadar Trek had been checked off the bucket list.
Tips From Siddharth Before You Trek Chadar!
Siddharth Menon is one of the most spontaneous and wild individuals among the travellers we ever encountered. Following are his recommendations for travelers planning trips to Chadar-
Many activated charcoal jackets are sold by the Leh guides. Try not to waste money buying these 'warmers'.
Ensure that only the essentials are packed inside the rucksack, to keep it light.
Do not forget to bring packaged foods and dry fruits with you.
At Leh, purchase several pairs of socks at the army's local stores.
Ensure sun protection by slathering moisturizer and sunscreen on your skin
The Starter's guide to the Chadar Trek is also highly recommended.
A variety of supplies can be found in Leh's markets. Prevent unnecessary expenditures by shopping at malls beforehand.
Check Out: The Love Saga Of Abrar And Ladakh Presented By Thrillophilia!